Disclaimer: This book was sent to me by the author, Talis Jones, for an honest review.
Genre: YA/Dystopian/Fantasy
Plot: I fled as they destroyed my home.
I watched as they murdered my family.
I stood silent as they stole my name and threw my life in chains.
I stare coldly at my fading reflection with only one question to ask:
Them or Me?
Set in a future where the United States has fallen, a girl is ripped from her home as a child and forced to endure the harshness around her or else surrender to the dust of bones she treads on. Her life becomes simple: kill or be killed. What she didn't count on was the heavy cost this world would drain from her soul. When she crosses paths with a curious stranger who offers to show her a place without a map, they head across the crumbling land in search of the fabled Sanctuary. Neither enemies nor elements that rip her hair and claw at her heels can stand in the way of her will to survive.
They say demons lurk in the shadows, but here they strut boldly under the angry sun.
Opinion:
What started out as a coming-of-age story in a lawless dystopian land;
ripe with casual murders, children being trained as soldiers and slaves, and the occasional back-stab…
…turned rather suddenly into a story that, quick and silent as a wraith, may have just crumbled my feelings into dust.
My heart…hurts.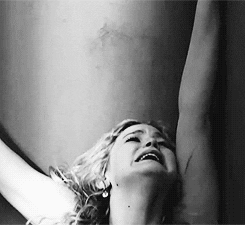 "Never trust strangers, unless you're on death's row anyway in which case you've got nothing to lose, Hero advised."
After the collapse of the world that we know, a girl of many names is thrust into a time of lawlessness and endless miles of desert. Trained as a young child in skills to be made a soldier or slave in a place called the Coral, Flinch is taught the ways of fighting cruelly and self-preservation. As a teen, she is called Vizsla, and sold to a man named Hans to work as a slave at his homestead in Alabama.  But when a man in need of a blacksmiths' skills arrives at the homestead, he takes an interest in Vizsla and makes an offer to buy her. With her new companion named Connors, Vizsla is given a new name, and given back her freedom. So ensues the tale of a girl with many names, and her journey to keep a promise that she made as a child.
"I wasn't equipped for this world. I had a vial of adrenaline and a knapsack of dreams and with every year that blew by another hope was plucked from my pockets, pinched from my purse, slipped from my bag. When my last hope was ripped from my rib cage I fell to my knees deflated and empty."
This story is gritty.
You're going to feel your lungs fill with dirt, your skin bubble under the angry sun, and your heart begin to turn to cold hard steal.
Alarum begins in the United States after it has fallen to harsh climate changes and the anger of the sun. The cities and towns have been decimated, flattened or completely wiped out. The population has dropped significantly, and only the strong and cunning survive. This world is lawless and unforgiving, where every man is out for themselves.
"Funny thing about this world, when it shifted and twisted it blew gales of sand in storms more powerful than anything our nation had seen before. Whole cities torn down, entire landscapes scraped flat, and all because of a lethal combination of wind, fire and earth, all set into chaos by some fool unknown."
Though there isn't an exact explanation of how the U.S. is destroyed, due to our main character being a young child during its demise, I found that the lack of explanation made the story feel so much more authentic. The reader is given just enough information on the subject to enjoy the story, and honestly, who really cares how it happened. Right?
Our main character is, like I said above, a girl of many names. We meet her as Vizsla, formerly called Flinch, afterwards called Kid, eventually called Fury, and another name that was given before all others. As a young child she endures gruesome deaths, brutal fights of survival, and a harsh realization that things will never again be easy. I found her character to be EVERYTHING that I could hope to be if the world ever crumbled: resilient, strong, sassy, capable and methodical. I instantly was fond of her character and became incredibly protective of her. Though I knew she could take care of herself, I kept finding my heart race and skip when something horrible would happen to her.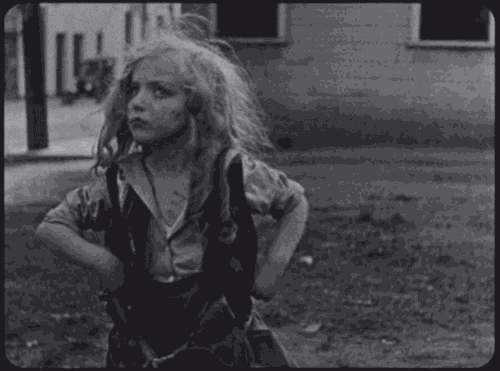 But probably the best trait of Fury is her perpetual affinity for snarky one-liners and sarcastic retorts.
"These glasses are worth more to me than gold.
He nods towards my dirt-smudged lenses. 'I trust you've got a backup pair somewhere?'
'Yep.'
Connors squints at my face. 'Liar.'
'I don't see why you say that, Connors. This is the damn end of the world, there are prescription glasses galore and I always make sure to carry a plethora of options at all times to coordinate with all my outfits.'"
This story follows Fury as she lives in the present, growing through the years, but also switches back to moments of her past. I really liked the switches between past and present in this story, because it gave me an amazing amount of information on Fury and how she lives up to her fierce name. Instead of the author TELLING me all about her past, the reader is immersed in those moments with the main character. I felt every bit of anger, sadness, disgust, terror, and happiness that she felt! Countless other characters were entwined in this story, and each given the care and consideration of being developed well. There are characters that you will hate, ones that you will love, and multiple you wish you had more time with.
I did have a few qualms with the story, by way of some moments not being fully explained or rushed over too quickly. Alarum moves fast. This book covers a TON of ground in its 422 pages, so it would be VERY hard for your attention to wander or for you to lose interest. But because it moves so quickly, I found there were a few moments that I had to go back and read again due to its quick pace. I found myself getting slightly confused in parts of the story by innuendos or confusing descriptions, but nothing that deters from the plot or makes the story hard to get through.
I think the true selling point on Alarum comes down to the writing. Talis Jones has an alluring way with words. She describes EVERYTHING in so much detail, with so much feeling, that you get swept away in the tale that she so elegantly lays before you. She does everything I am so un-used to by authors. Her sentences are LONG. Her characters have the substance of someone who is both enlightened and cursed. She has characters fall in love, but the ROMANCE DOESN'T TAKE OVER THE STORY! She introduces key characters throughout the book, and she even kills off the one's you'll grow attached to.
This book was everything I have always wanted in a YA Dystopian styled western.
I am officially hooked on Talis Jones and her stories, and I fully expect you all to be as well.
"Self-preservation makes demands on your body and I refuse to lay down and ignore the call."