Disclaimer: This book was sent to me by the publisher, The Parliament House Press,  for an honest review. 
Genre: YA/Fantasy
Plot: It's difficult taking care of a delusional father by yourself. Sixteen-year-old Shaleigh Mallet would rather explore and photograph dilapidated buildings than cater to her father's dark episodes. But when she's kidnapped by a creature who carries her atop a flying bicycle into another world, she realizes this wasn't the escape she wanted.
In a kingdom known as the Garden, where minotaurs pull carriages and parties are held in hot air balloons, Madam Cloom and her faerie servant, Teagan, rule over the land with incredible but terrifying magic. Shaleigh must prove that she is the reincarnation of a long-dead ruler, not because she believes it, but because it's her only chance to survive. With the help of a trespassing faerie, a stoatling, and a living statue, Shaleigh hopes to outwit everyone. She aims to break the bonds of servitude and finally make her way home. What she doesn't realize, however, is that she's playing right into the hands of a far worse enemy…
Opinion:
I feel as if I've just fallen off a Yellow Brick Road into a Rabbit Hole.
Down…down…down…
…into the dark depths of h–
HAH, kidding.
It's more like the magical depths of WonderOzRinth.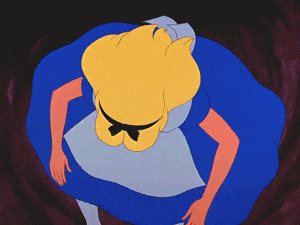 This author is clever.
While reading Stolen I got INSTANT vibes of Alice in Wonderland and The Wizard of Oz. A rat-boy creature driving a flying bike through the sky, a garden with an evil "Queen", a cowardly lion, and a main character with the last name Mallet. Hmmm…something makes me think this book is FULL of little Easter eggs!
Though I loved the world building, writing and direction this author took the story, I was having a hard time getting through it.
Though there was an even pace throughout Stolen, it was a slow pace that seemed to drag on and on without a lot happening. Due to this being the first book in the series, I imagine this might be the grand setup for what is to come. But even so, I was expecting a little more turmoil and pizzazz! I wanted more examples of strange mythical creatures or examples of the differences between this world and the human realm. The writing was flawless and the author succeeded in describing details of the world intricately, but I wanted to know MORE about the world Shaleigh fell into. I felt like I was given a great TASTE of the magic and uniqueness of this place, but wasn't fully enveloped in it.
I wanted to drown in it, not just stick my toes in.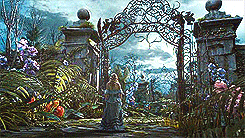 I would have liked to connect to the characters more, because they came off as one-dimensional with not a lot of substance. Shaleigh started out as a unique character with an affinity for taking photos in decrepit abandoned buildings. I thought this was such a RANDOM attribute for a character, but one I instantly loved and connected with. But as the story progressed, I felt as if she was just in the background of the book, even though she's the main character. She doesn't seem that surprised/scared/in awe of this new world she was dropped into. Why? I would be FREAKING out!
I was also a bit unclear of ages of everyone, except Shaleigh. I know this doesn't seem like it would be a big deal, but when I have little basis of how old a character is, it takes away from the intent of their dialogue and I am left feeling confused. My human nature wants to predict a love interest or friend/foe from the beginning, and I need ages and more descriptions of body language to do that. Out of everyone, I think Mawr and Colin were the most developed and likable characters, but we unfortunately don't get a whole lot of time with them.
All in all, this story is a great read…even if I had a few qualms with it. The writing is PERFECTION and it transported me to a new world that feels familiar to my heart. It may not have gotten my heart rate up or made me overly obsessed with the characters, but I would be very interested to see where this series goes. The author left the book in a place where she can go several ways with the plot, and I am very curious as to how she will spin everything together.
I'd recommend it to anyone with a love for Alice in Wonderland, The Wizard of Oz or Labyrinth.
With that said…