Disclaimer: This book was sent to me by the author, Alex Ferrick, for an honest review.
Genre: Adult/YA/Adventure/Short Story

Plot: In a world, where men are judged by their profession, there are few like the fortune hunter. These steely men of fantasy search the globe in pursuit of lost treasures, which have been forgotten by time.
Among fortune hunters, there is none quite like Nick Reed, a man called Scorpio.
My name is Bartimaeus… I am the partner, and friend, of Nick Reed. I have compiled for you this account of how I first came to meet the man called Scorpio, and of our first perilous adventure together.
Opinion:
This book is perfect for fans of National Treasure, The Da Vinci Code, or even Pitfall! – a game that came out on Atari in the early 80's but has since been revamped on Wii (seriously, so good). Forsaken Wrath is book 1 in the Scorpio Files series that centers on the tales of fortune hunters Nick Reed, known as Scorpio, and Bartimaeus.
A former Navy Seal and excellent marksmen, Scorpio spends his time hunting down the lost relics made famous by history books. When Bartimaeus seeks him out to acquire his assistance on a job that his father had dedicated his life to researching, the two embark on an adventure around the world to find three gates that will lead them to treasures beyond their wildest dreams.
This is my first read by author Alexander Ferrick, and I am honestly blown away by his storytelling and creative abilities. He possesses an ease in his writing that feels so flawless and effortless. This young author has a knack for weaving tales that draw you in and keep you hooked, and for dreaming up characters with various backgrounds and unique personalities.

Each character has a meaningful amount of detail and explanation into who they are and what they stand for that is perfect for this short story. There is a man named Doc who is an eccentric genius, Gabriella who is a master of prosthetics and makeup, Nick Reed who was a decorated Navy Seal and sniper, and a cruel and sadistic man of equal lethal abilities named M'Kembe Oro.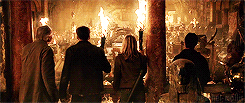 Honestly, the only bad thing I have to say about this book is that it is under 70 pages long. I was so glued to this tale that I read it WAY too quickly, and am more than upset that it is over. I can't wait to see where Alex takes this story in the next installment, and I am hoping that he turns this book and this series into full length novels. Because it's THAT good.