Disclaimer: This book was sent to me by the publisher, Harper Teen, via Edelweiss+ for an honest review.
Genre: YA/Fantasy/Romance/Historical Fiction
Plot: Bound as one to love, honor, or burn.
Two years ago, Louise le Blanc fled her coven and took shelter in the city of Cesarine, forsaking all magic and living off whatever she could steal. There, witches like Lou are hunted. They are feared. And they are burned.
Sworn to the Church as a Chasseur, Reid Diggory has lived his life by one principle: thou shalt not suffer a witch to live. His path was never meant to cross with Lou's, but a wicked stunt forces them into an impossible union—holy matrimony.
The war between witches and Church is an ancient one, and Lou's most dangerous enemies bring a fate worse than fire. Unable to ignore her growing feelings, yet powerless to change what she is, a choice must be made.
And love makes fools of us all.
Opinion:
"My throat is weeping.
Not tears. Something thicker, darker. Something that bathes my skin in scarlet, streams down my chest and soaks my hair, my dress, my hands. My hands. They scrabble at the source, fingers probing, searching, choking-desperate to stem the flow, desperate to make it stop, stop stop-"
Oh.
My.
Cauldron.
Boil me down to sludge and shove me in a bottle, for I think I just died.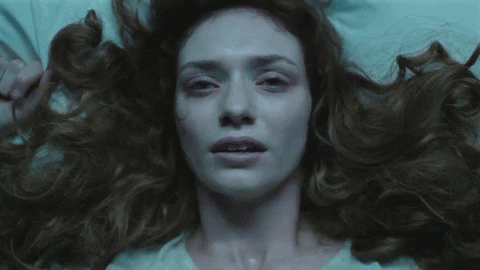 My soul is lifeless in this vessel I call a body.
The blood along with every trace of fluid, tissue and muscle has left my carcass.
My heart has been ripped from my chest out through my throat, leaving a trail of murmured affection and promises of protection that dissipated into the wind as soon as it unwillingly passed my lips.
My rib cage has contracted, folding in on itself due to the empty void that now echoes through it.
I am crumbling.
Decaying into ash.
I've never hated reality more.
Serpent & Dove is a book my battered and bruised being has been waiting for since the romance of ACOTAR and TOG decimated the last of my hope in humanity. It slowly glued my sorrowful glass heart back together, lighting my face with smiles and my eyes with mischief. For the first day reading, I was a fiend gripped by the characters and world that Shelby Mahurin enchanted into words. On the second day I was leaking tears and whimpers of love, promises, hope and wistfulness. But now, on the third day…
I was positively enraged by this cliffhanger and the agonizing realization that I will have to wait until SOMETIME in 2020 to know WTF happens!!!
*deep breath*
I am die-hard obsessed with this book. I love it. I breathe it. If possible, I would sew myself into it and never leave. It is FANTASTIC! Sure, maybe it's the fact that is centers on a feud between church and witches. And yeah, maybe I am biased to my witch sisters. But if you even just read the first chapter of this RIDICULOUS book, you will understand why I am so willing to lay my tortured existence down for these characters and this story.
The church is lead by the Archbishop who is loved among the people and preaches an intolerance of witches, insisting their deaths at the stake is Gods will. The witches, who are hunted down for their abilities and supposed abomination, fight back against the church in random attacks to bring down their royalty. The Chasseurs are sworn to the church and act as witch hunters who are as equally skilled as they are brutal. Any witch, Maiden, Mother or Crone, are put to death. The issues between the church and the witches are DEEPLY rooted, and quite honestly, shocking as hell! There is action, murder, magic, romance and blindsides DRIPPING from the seams of this book.
The premise and roller-coaster ride the author takes you on will be exhausting, so take a deep breath.
Because apart from a FANTASTIC plot, there are INCREDIBLE characters.
And firstly, Louise le Blanc is THE s**t.
She is sassy, crude, sarcastic, arrogant, and devious. She curses up a storm, lives to play tricks on unsuspecting people and screams filthy pub songs like "Big Tiddy Liddy" at the top of her lungs. She is selfish. She is loud and obnoxious. And…I love her. I feel like she COULD be compared to Celaena Sardothien, but that would be a piss-poor comparison and honestly a little offensive. Don't get me wrong, I love that sadistic assassin. But where Celaena's arrogance is so strong and practically a turnoff, Lou's is flawless and incredibly just. She is witty and SO sharp. The retorts and insults that dance off her tongue are enchanting, and her ability to deflect is uncanny. She is gentle yet hardened. Sorrowful yet joyous. She is a BADASS witch who can take down men twice and thrice her size with a few easy movements, and I am beyond impressed. She is a woman who has walked the depths of darkness, but still allows a smirk and grin to dance across her face. She fills me with both unending joy and heartbreaking misery.
"Do not urge me to leave you or turn back from you."
"Where you go, I will go. Where you stay, I will stay."
But with Lou, comes Reid. He is Captain of the Chasseurs, and the church and word of the Archbishop is all he has ever known. For him, the word of God is law, and witches are vile inhuman creatures that must be eradicated. So when his life is suddenly bound to Lou's by holy (or unholy) matrimony, he feels as if his world has shattered. But just when I thought I had Reid pinpointed…he surprised me. He is gentle, kind, sweet, caring and honorable…especially when it comes to this new wife he refers to as a heathen. He isn't the swaggering, cocky and douchey male lead that we have become accustomed to in YA Fantasy. He is innocent and unsure, but not in a way that makes him weak. He is POSITIVELY swoon-worthy, and you will have such a hard time not comparing every man in real life to him from now on.
"Every aspect of Reid was precise, certain, every color in its proper place. Undiluted by indecision, he saw the world in black and white, suffering non of the messy, charcoal colors in between. The colors of ash and smoke. Of fear and doubt.
The colors of me."
I have SO much to say about this book, but none of it can be said without be revealing every WONDERFUL piece of information. I felt so many emotions during this read. You know it's an amazing book when you are constantly yelling out and making strangled noises or cackling into the air of your home. Serpent & Dove had me laughing, crying, yelling obscenities and smiling like an idiot. This book is fantastic.
My only issue is this:
I just want to know the last two verses to "Big Tiddy Liddy".