Disclaimer: This book was sent to me by the publisher, Simon and Schuster, for an honest review. 
Genre: YA/Historical Fiction/Fantasy/Mystery
Plot: A girl searches for a killer on an island where deadly sirens lurk just beneath the waves in this gripping, atmospheric debut novel.
The sea holds many secrets.
Moira Alexander has always been fascinated by the deadly sirens who lurk along the shores of her island town. Even though their haunting songs can lure anyone to a swift and watery grave, she gets as close to them as she can, playing her violin on the edge of the enchanted sea. When a young boy is found dead on the beach, the islanders assume that he's one of the sirens' victims. Moira isn't so sure.
Certain that someone has framed the boy's death as a siren attack, Moira convinces her childhood friend, the lighthouse keeper Jude Osric, to help her find the real killer, rekindling their friendship in the process. With townspeople itching to hunt the sirens down, and their own secrets threatening to unravel their fragile new alliance, Moira and Jude must race against time to stop the killer before it's too late—for humans and sirens alike.
Opinion:
"A flash of silver under sea, when siren song hath taken me.
Absent of color, absent of light, absent of all that I knew in life.
Bolt the latch and watch the waves, pray sirens do not take me tonight."
The inhabitants of Twillengyle island know the dangers that lurk below the surface of the waters. They are taught as children to be fearful of the harbor, to wear iron at all times, and to never go into the ocean. But the fascination of sirens brings yearly tourists to the island, which always ends in a death or three. But this year, an islander is found dead on the shore. A young boy with his throat slit clean. The police deem the cause to be an attack from the sirens, but Moira Alexander disagrees. Moira has always been enraptured by the sirens, just like her father, and believes the death of this boy is due to foul play. She enlists the help of the light keeper, Jude Osric to help track down the true killer. But Moira has no leads, and is finding it difficult to trust anyone. But she must act quickly, before the bodies start piling up.
Allow me to introduce to you, my newest eerie fantasy of 2019.
Move over The Wicked Deep!
There's a new creepy island in town with deadly beings in the water, and a meddlesome female lead to make you swoon!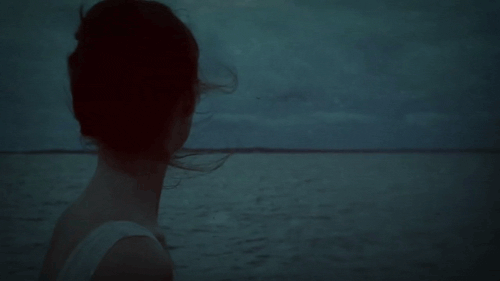 "Playing for the sirens fills a dark and hollow yearning, a cavernous desire I've no other way to appease."
The setting for this enchanting read is an island called Twillengyle, and my oh my, am I obsessed with it! It is oddly alluring island masked in fog and mystery, beckoning outsiders forward with a chilled bony finger. It whispers secrets on the wind, rains fear on its sandy beaches and coaxes sailors to the docks and out into the blue.
It gives me Sleepy Hollow tingles and caresses of Sparrow curses, but these waters aren't filled with ghostly spirits enacting revenge. In this tale, songs flutter through the waves from the dark depths of the unknown, luring the souls foolish enough to walk unprotected. The sirens keep an alertness about the island and apprehension in the air, but it is the islanders who keep the darkest secrets.
"Twillengyle is a place to be embraced with one arm, with a dagger ready in the other hand. To be charmed by its magic is not the same as becoming its fool, Moira. Remember that."
As soon as I began reading Songs from the Deep, I was hooked. I devoured this beauty in five hours, and all I can think is I need more. The writing was beautiful and eerie, and the historical fiction of the tale brought the creep factor up a notch. Each character was introduced in a manor where you can't tell if they are good or evil, sincere or manipulative, like something straight out of a Stephen King novel. Who to trust, who to fear? Honestly, I'm not even sure I could tell you! The old-fashioned dialogue brings about an air of propriety and polite interactions, but mix that with a couple slit throats and you've got blood coating the sandy shores.
"Now I'll have his blood on the soles of my boots."
If you, like me, love a meddlesome girl, then you will surely adore our Moira Alexander. She is strength in a petticoat, authority in stockings, and a fiercely skillful young lady. Moira is a character who knows exactly who she is and what she believes in, and wouldn't think twice about apologizing for either. She has strong morals and opinions, which she has no shame in voicing, but she does so in a regal and sophisticated way. As a child, Moira followed in her father's footsteps of having a keen interest and love for the sirens. So much so, that she spends her days sitting on the cliffs playing songs on her violin to the creatures below.
 "When she disappears beneath the waves, I feel pinned to the moment. I replay it like a song, over and over, until it's familiar as a heartbeat."
But like all the islanders of Twillengyle, Moira has secrets of her own, and this one involves her former best friend and the love-interest of this haunting story: Jude Osric.
"On one dark bough, I curse my efforts to drain our friendship bloodless, when neither of us desired the ax."
Jude is the epitome of good-natured and sweetness! So many times in YA Fantasy we have a bad boy character with secrets, regrets, a mournful past of death and dark hair with gray eyes. Well…the secrets and mournful past of death is still there, but you see where I'm going with this. Jude is kind and honest. He has an innocence etched into his bones that even the loneliness of his lighthouse can't extinguish. He is an upstanding gent, an endearing friend and he's just… pure goodness. This is one male love interest I could jump into the ocean for.
But obviously, the real treat of this story is the plot.
This siren story is one you need to buy now and devour. I know so many of you have been in an endless hangover from The Wicked Deep, and this is the cure! Not only is it a fantastic mystery full of twists and turns that keep you guessing until the end, but it ends on a note that makes you feel eerily complete. If a book was ever written for my soul, it would be this. This world, these characters, and the mysteries of the waters speak to my very being. If I could crawl into these pages, my heart would have finally reached bliss.
"Disquiet makes a home inside my heart."