Disclaimer: This book was sent to me by the author, Gillian French, for an honest review.
Genre: YA/Mystery/Thriller
Plot: Everyone in Tenney's Harbor, Maine, knows about the Garrison tragedy. How an unexplained fire ravaged their house, killing four of the five family members. But what people don't know is who did it. All fingers point at Pearl Haskins's father, the town drunk, who was the caretaker of the property, but she just can't believe it. Leave it to a town of rich people to blame "the help."
With her disgraced father now trying to find work in between booze benders, Pearl's future doesn't hold much more than waiting tables at the local country club, where the wealthy come to flaunt their money and spread their gossip. This year, Tristan, the last surviving Garrison, and his group of affluent and arrogant friends have made a point of sitting in Pearl's section. Though she's repulsed by most of them, Tristan's quiet sadness and somber demeanor have her rethinking her judgments. Befriending the boys could mean getting closer to the truth, clearing her father's name, and giving Tristan the closure he seems to be searching for. But it could also trap Pearl in a sinister web of secrets, lies, and betrayals that, once untangled, will leave no life unchanged . . . if it doesn't take hers first.

Opinion:
A quadruple homicide, rich Summer boys, a drunk father and unattainable love.
Pearl Haskins is about to have the summer of her life.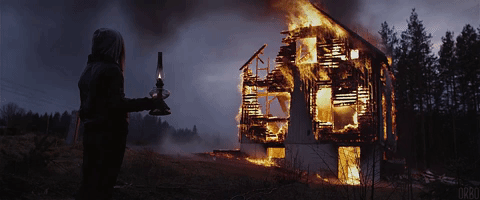 The Lies They Tell documents Pearl's time working the summer at the Tenney's Harbor Country Club as a server to the rich and dismissive families of the elite. As a lower-class working townie, Pearl is well–aware of the divide between the Summer crowd and those who reside in TH year-round. The summer boys come from extreme wealth, and they have reputations for starting flings with townie girls and discarding them by the end of summer. Having resided there all her life, and her father working as a caretaker for the homes of these families, Pearl has always known to keep her distance and to not get involved.
So naturally when Bridges, one of the summer boys who is close friends with Tristan Garrison, asks Pearl out, I was instantly screaming DON'T DO IT! He's playing a trick on you! He just wants sex! HAVEN'T YOU SEEN CARRIE?! But don't worry guys, she doesn't get murdered or assaulted on their first outing, or even the one after that.
* whew *
The story takes the reader through Pearl's summer as she gets to know the boys she has always seen at a distance.
For Pearl, she justifies her time with them as a means to get closer to Tristan in order to learn the truth of the murders, and in turn, hopefully redeem her father's reputation (which had been soiled by rumors that he was drunk on the job on night of the murders). But as she gets closer to Bridges and his friends, she begins to see a new side of them. They seem genuine and caring, and she even begins to enjoy the friendships that begin to blossom.
Of course, my favorite character in this story has to be Pearl. She embodies the anxieties and stresses that being an eighteen-year-old girl represents. She is sassy and has quick remarks to protect herself, but deep down she just wants to feel accepted and desired like everyone else. I was constantly smirking at her quick wit and ability to adapt to the situations she was thrown in. The girl is sharp and knows how to handle herself, and I love her for it! When it comes to the summer boys, this girl can hold her own, but when it comes to her best friend Reese…
*sigh*
That boy deserves to be slapped for the way he treats her in this, and that's all I am going to say.
But the real focus of this story is Tristan and the death that surrounds him. After losing his entire family, for some reason he comes back to TH to spend the summer with his friends – doing way too much cardio and barely eating. Soon after the murders he was brought in by the police as a suspect, but the charges were dropped after he provided an alibi and proof that he was hours away at the time of the crime. Due to the trauma that he recently had to endure, it's not surprising that he acts distant and prefers to be alone. But what is really intriguing about him is the thick fog of mystery that surrounds his character. The author does an excellent job of making you dissect everything he says and does, because you aren't sure if you are supposed to love or hate him.
He seems constantly lost in his thoughts and gives off the impression of not paying attention to anything around him, but its actually the opposite. He is sharp and opinionated, but not in a malicious or cruel way. His intelligence shines through and it is so easy to see the positive qualities in him that draw others in. And to be honest, he is just begging to be drooled over! With his uninterested facial expressions, quiet and closed-off demeanor, and resident tortured bad-boy aura – it was impossible not to fall in love with him. Tristan is the sorrowful beauty of a male who goes from king of the ball to social pariah overnight, and that's just the beginning of his intrigue.
The author pulls you into the lives of the characters in such a natural and realistic way. She perfectly showcases the awkward encounters between boys and girls, the pressures and expectations that are put on you by your peers, and the person you have to morph into the fit in. These characters decisions are dictated by a look of expectancy or by a tension in the air that whispers prove yourself, prove that you are worthy. It made me angered and sad for what it means to be a teen, but it also gives me a thrill for how well French was able to shed light on how it truly is.
I was hooked on this story from the first page until the last, staying up into the wee hours of the morning to devour it. It's a steady-paced YA mystery that gives subtle hints throughout the story, but keeps the reader completely in the dark until the end. As a true crime fanatic, I gravitate towards stories that slowly blossom and give insight into the human psyche. I want to know how the characters act to trauma or heated situations. I want to witness their reactions, read their body language and dissect the words and phrases they choose. I want to decide who is at fault by the evidence presented, and Gillian French allowed me to do just that.
In my book, this was a win and I absolutely love that it ended with answers shrouded in even more mystery.