Dear 2019

,
It's been

real

. It's been

fun

.
But I can't say it's been

real fun

.
~*~*~*~*~*~*~*~*~*~*~*~*~*~
~*

My 10 Anticipated January 2020 Book Releases

*~
~*~*~*~*~*~*~*~*~*~*~*~*~*~
1. The Gray Chamber (True Colors) by Grace Hitchcock
Release Date: January 1, 2020
Genre: Historical Fiction/Mystery/True Crime
Let's start 2020 off with some historical fiction and true crime, shall we?
The Gray Chamber is one of many stories in the True Colors collection. The books are written by a number of different authors, but all center on one thing: Historical Romances and American Crime.
*puuuurrrr*
This little gem is set in New York in 1887, in a sweet little lunatic asylum where all the women are dutifully cared for and not put there by powerful men who tire of them. *cough*
It is the story of how Edyth Foster is thrown into a women's Insane Asylum by her uncle, who is in control of her vast inheritance until her 25th birthday. So just days before she is to gain full rights to her father's fortune, her uncle commits her, planning to leave her there to rot. Whilst inside, Edyth meets a woman who claims to be an undercover journalist hellbent on getting the true story of what goes on in the institute.
P.S. Have I told you guys that I, myself, was written into a novel about an Insane Asylum? It's true. I'm a poor little lass, committed by my husband for being "too sad" after a miscarriage. What a guy, right? Read it here: Whispers of Bedlam Asylum
2. A Heart So Fierce and Broken (Cursebreakers, Book 2) by Brigid Kemmerer
Release Date: January 7, 2020
Genre: YA/Fantasy/Retelling
A Heart So Fierce and Broken is the second installment to the ever popular Beauty and the Beast retelling – A Curse So Dark and Lonely, but comes from the POV of Grey.
Now, I STILL have not even read A Curse So Dark and Lonely, but in my defense – work is getting in the way! I have it waiting patiently for me on my shelf, staring at me every time I have a different book in my hands. But soon…SOON!
I have already read a few reviews on Goodreads and there are quite a bit of conflicting opinions, which makes me want to read it even more!
3. One of Us Is Next (One of Us Is Lying, Book 2) by Karen M. McManus
Release Date: January 7, 2020
Genre: YA/Mystery/Thriller
I'm going to just say it: this is yet another sequel to a book I haven't read yet, and it's not going to be the last.
One of Us is Next is the sequel to One of Us is Lying, a hugely popular YA Mystery/Thriller about five teens who walk into detention, with only four walking out. It's The Breakfast Club meets murder mystery, and it has STELLAR reviews from readers.
One of Us is Next centers on Bronwyn's sister and two new characters. It's a Truth or Dare app game that gets dangerous quickly, and the teens are completely on their own when it comes to survival.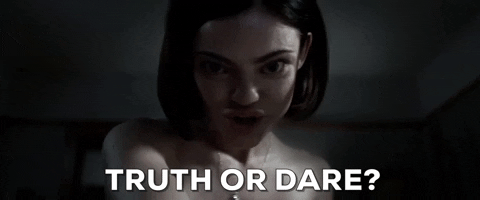 4. The Night Country (The Hazel Wood, Book 2) by Melissa Albert
Release Date: January 7, 2020
Genre: YA/Fantasy
The Night Country is the sequel to The Hazel Wood, and yes, another series I haven't started. But, once I finish my current read, I am jumping into The Hazel Wood and then my ARC of The Night Country!!
The Hazel Wood is about a girl named Alice and her mother who are constantly trying to outrun their bad luck. But when her mother is abducted by a man who claims to originate from Hinterland, things turn curious. Hinterland is the supernatural setting for each of her grandmother's dark fairy tale stories, which have gained quite the cult following. Alice enlists the help of a classmate named Ellery Finch, who also happens to be a fan of the stories.
In The Night Country, Alice and Ellery dive back into the magical world that has found its way into New York City. New characters and dark scenarios make up this little beauty, and I cannot wait to get started!
5. Scavenge the Stars (Book 1) by Tara Sim
Release Date: January 7, 2020
Genre: YA/Fantasy/Retelling
Retelling Time!!!!
Scavenge the Stars is a retelling of The Count of Monte Cristo and the first book in a planned duology. It claims to be for fans of SJM, Sabaa Tahir and Leigh Bardugo…so yes, my interest has been captured.
In Moray, children are forced to bear the debts accumulated by their parents in the event of their death. For seven years, Amaya Chandra has been working to pay off her debts after being sold to a debtor ship. Her only goal is to enact revenge against the man who shattered her world. But when she rescues a stranger from drowning, she realizes it may cost her in the long run.
Gambling, rich elitists and a badass female with a desire to kill?
I'm game.
6. Just Breathe by Cammie McGovern
Release Date: January 7, 2020
Genre: YA/Contemporary/Health-Mental Health
Grab the tissues, I think this one is going to make us weep.
David Sheinman has everything. He's popular, senior class president and well-liked by his peers. But he also has cystic fibrosis, a hereditary disease that attacks the lungs and digestive system. Jamie Turner is unlike David. After her father's suicide and a lack of friends to reach out to, she is caught in a deep depression which soon becomes unmanageable for her.
Just Breathe is the story of how David and Jamie's worlds collide at the hospital, where an unlikely friendship and support system is formed. If this doesn't give me Me, Earl, and The Dying Girl or The Fault in Our Stars vibes…I'll just have to cry harder.
7. Beyond the Shadowed Earth (Beneath the Haunting Sea, Book 2) by Joanna Ruth Meter
Release Date: January 14, 2020
Genre: YA/Fantasy
Beyond the Shadowed Earth is the sequel to Beneath the Haunting Sea, but it is a book that can be read without reading the first. So basically, it's totally fine that this is yet another series I haven't started.
In Beneath the Haunting Sea, Sixteen-year-old Talia and her mother are exiled from the Emperor's court to a distant sea-side estate after her rival seizes power. On the voyage across the Northern Sea, Talia begins to hear something beneath the waves, calling to her. When she arrives at her estate of exile, she meets a boy who also claims to hear the music of the ocean.
Dun. Dun. Dun
However, in Beyond the Shadowed Earth, we are given an entirely different plot and lead character, but set in the same fantastical world.
Eda has dreams of becoming empress, and will do anything to get what she wants. So she makes a deal with the gods by bargaining away the soul of her best friend in order to attain power. Years later when he friend dies, she becomes overcome with guilt for what she had done. So she sets off to find the god that she made the deal with, in the hopes of reversing it.
8. Echoes Between Us by Katie McGarry
Release Date: January 14, 2020
Genre: YA/Contemporary/Romance
Hell–o young love!
Please break my heart.
But is this also a Paranormal/Fantasy?!
Echoes Between Us is the story of a girl who surrounded by loss, and a boy with a bright future.
Since the death of her mother, Veronica has been seeing the ghost of her mother with every piercing migraine that consumes her. Suffering from a brain tumor, which is the exact way her mother died, Veronica is beginning to feel as if she may be going crazy. But when Sawyer enters her life, things begin to change. Sawyer is popular and has a bright future ahead, with a life that seems perfect. But as the two become closer, they both realize that not everything one sees on the surface is reality.
9. Follow Me to Ground by Sue Rainsford

Release Date: January 21, 2020
Genre: Fiction/Fantasy/Magical Realism
Follow Me to Ground promises to be weird AF, and I am all sorts of here for it.
Ada and her father have been blessed with the ability to heal illnesses, and they do so for local villagers by cracking open their damaged bodies and burying them in a dirt that revives them…or something. Ada then falls in love with a man that her father disapproves of and…that's basically all I know.
The description says Ada is "a being both more and less than human", and I'm just like…
Wtf does that even mean?!
Give it to me.
10. Seven Deadly Shadows by Courtney Alameda & Valynne E. Maetani
Release Date: January 28, 2020
Genre: YA/Fantasy
THIS one, is going to be epic.
Seven Deadly Shadows is about a girl named Kira, who battles demons who attack her shrine in search of an ancient artifact. With the help of Shiro, a half fox/half boy, they learn that the only way to defeat a demon-lord and find said missing artifact, is to enlist the help of seven death gods.
I mean…
~*~*~*~*~*~*~*~*~*~*~*~*~*~
Stay Witchy ❤