Disclaimer: This book was sent to me by the publisher, Unbound, via Netgalley for an honest review.
Genre: Fiction/Fantasy
Plot: One soul. One pact with the Devil. One chance at love.
Elizabeth Murray has been condemned to burn at the stake. As she awaits her fate, a strange, handsome man visits her cell. He offers her a deal: her soul in return for immortality, but what he offers is not a normal life. To survive Elizabeth must become Death itself.
Elizabeth must ease the passing of all those who die, appearing at the point of death and using her compassion to guide them over the threshold. She accepts and, for 500 years, whirls from one death to the next, never stopping to think of the life she never lived. Until one day, everything changes. She – Death – falls in love.
Desperate to escape the terms of her deal, she summons the man who saved her. He agrees to release her on one condition: that she gives him five lives. These five lives she must take herself, each one more difficult and painful than the last.
Opinion:
"I am the woman you most want to see in those final seconds you live on this earth. I have been wives, daughters, best friends. I have been a beloved nurse, a primary school teacher. Your first love. I am the ultimate mother.
I am Death."
Death is not the hooded figure you've heard about in stories. Death does not lurk in the shadows with a sadistic twinkle in it's hollow skull, awaiting bloodshed and cruelty. Death does not take a life out of selfishness or evil. Death is a woman, and she only comes when she is called. She comes to those who are reaching their life's end, to be a guide into their afterlife, wherever that may be. And for the last 500 years, Lizzie has been Death. She has been a familiar and loving face to those who are nearing their end, and she takes pride in helping others. But when Lizzie comes across a man named Tom, she is stricken with a love she never thought she'd have. Desperate to end her time as Death and to be able to have a life with Tom, He agrees to release her from her contract on one condition: she must kill five people of His choosing.
"In 1590, I sold my soul to the Devil."
After being accused of witchcraft, Elizabeth Murray is sentenced to be burnt at the stake. But as she awaits her impending doom in the dungeons, she is visited by Him – the Devil. He comes to her with an offer. He promises her, in exchange for her soul and complete ownership over her, she can "live" as Death. Naturally, she makes the deal. And so, for 500 years, Lizzie lives as Death. Constantly moving around the world, guiding souls across the veil between the living and the dead. She only comes when needed, as a means of comfort to the soul that is dying to ensure they go in peace and happiness. She does not take the lives she guides into Death, she only arrives as a servant in the circle of life.
"Lives are given to me – I never take them. Never."
This depiction of Death always takes the form of a woman, but her face changes to match the wants of the person dying. Whether someone wants to see their mother, sister, daughter, or aunt, Death becomes them. She is given the memories of the woman she becomes, and speaks with the person as they begin to enter the afterlife. But what is really interesting, is that some people are able to actually see Death for who she is, and keep her at arms length. Of course when this happens, it is utterly depressing to witness because those people go into a totally hysteria and shock as they realize what is happening to them. But Death has a job to do, and she does it well. She is a woman of a billion faces.
"This is no place for a woman, I've heard it said.
I've never seen a place a woman was more needed."
This is honestly one of the coolest and most unique stories I have ever come across. The outlook on death that this author possessed was truly special. She gave death a gentle and feminine quality that makes you feel comfortable with its presence. It is delicate and sweet, rather than a cold and fearful entity that we all seem to shrink away from. This author gives the reader an intimate introduction to an idea of death that almost brings peace and quiet. It is sensitive, caring, heart-achingly beautiful and truly one of a kind.
It is so seldom that a book can reach into my soul with such ferocity and gentleness.
But this book did that.
It crushed me.
This entire story feels like a poem written just for me. Like the author knew I would need this, and I am confident that I am not the only person who will feel this. The Life of Death is a love song, a sonnet. A message in a bottle that has traveled through storms of anger and eerie calm, only to wash up at the feet of its desired recipient. The writing is so descriptive and perfect. I was lost in this story, feeling waves upon waves of emotions for Lizzie and these fleeting characters.
It's breathtaking.
But as soon as I began to see that this story was one of beauty and acceptance of death, the author drove a knife into my heart and cut the ties on the dam that was holding my tears in. DEVASTATION. Unending, literal, soul-crushing, weep-worthy devastation. And all I can say is, why? WHY?! Why did you fill me up with so much love and assurance, and then just cut me at the knees and leave me in a pool of my own despair?? Couldn't we just let this be a story of happiness and good fortune?
Of course we couldn't, this is the story of Death, after all. And in all reality, this isn't the bright and happy story that I am making it out to be. It is a dark and gritty tale once Lizzie begins killing the people that He decides upon. Because each of these people are innocents. They aren't supposed to die, but they must in order for Lizzie to be released from her contract with the Devil. And the worst part? Lizzie has to use other people to do the killings. So not only is she taking the lives that the Devil tells her to take, but she is also forever altering the lives of those she takes control of to do the deed.
This isn't a fluffy tale.
It's a tale about Death.
But even so, I can't help but hold it close to my heart as a book that I will forever think fondly of. It's just beautiful, in all of its depressing and dark glory. I highly recommend it to any reader that is looking for something truly different from the normal stories currently out there. It will give you a whole new outlook on death, and honestly, its for the best.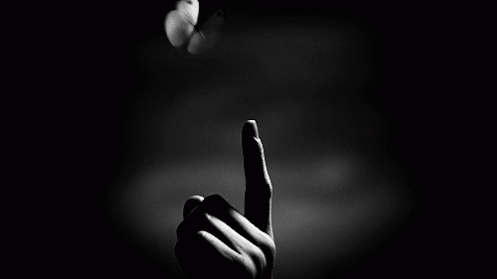 "Fade to black."