Disclaimer: This book was sent to me by the publisher, Flat Iron Books, via Netgalley for an honest review.
Genre: YA/Fantasy
Plot: Seventeen-year-old Alice and her mother have spent most of Alice's life on the road, always a step ahead of the uncanny bad luck biting at their heels. But when Alice's grandmother, the reclusive author of a cult-classic book of pitch-dark fairy tales, dies alone on her estate, the Hazel Wood, Alice learns how bad her luck can really get: her mother is stolen away―by a figure who claims to come from the Hinterland, the cruel supernatural world where her grandmother's stories are set. Alice's only lead is the message her mother left behind: "Stay away from the Hazel Wood."
Alice has long steered clear of her grandmother's cultish fans. But now she has no choice but to ally with classmate Ellery Finch, a Hinterland superfan who may have his own reasons for wanting to help her. To retrieve her mother, Alice must venture first to the Hazel Wood, then into the world where her grandmother's tales began―and where she might find out how her own story went so wrong.
Opinion:
Alice and her mother Ella have been on the run from bad luck since she was a child. Never able to stay in one place for too long, Alice had grown accustomed to the constant bag packing and switching of homes, schools and cities. Of course, sometimes the bad luck would creep in too closely. Like Alice being kidnapped by a man in a blue Buick at the age of 6, promising her a meeting with a grandma she had only known by name, only to have Ella find her and take her back. But no matter where they went, Alice always felt an anger eating away at her.
So when her mother suddenly disappears, she is forced to turn to the one person Ella has kept her away from her entire life: her grandmother, Althea Proserpine – a famous writer of dark fairy tales about a world called The Hinterland. Now, Alice must learn all she can about The Hinterland and how to find it and the estate that her grandmother lived in before her death: The Hazel Wood.
But Alice will quickly learn that she is chasing more than just fairy tales, and that even her story is yet to be finished.
"Look until the leaves turn read,
sew the worlds up with thread.
If your journey's left undone,
fear the rising of the sun."
Where do I even begin?!
The Hazel Wood is the YA Fantasy story for fairy tale obsessed readers who like an unconventional tale. This may not be the fluffy sort of story most are accustomed to, by way of beautiful Disney Princesses and romantic happy endings. There isn't just one evil-doer, and there are more than just poison foods that can kill you in a flash. No, this is definitely not a tale of good fortune. It's The Brothers Grimm meets Once Upon A Time, and it is wickedly good. The characters are oddities in their own right, with addictive quirks and flaws aplenty. It is set in a world of ruthless caliber with threats of death at every turn, and it is written like classic dark folklore with descriptions and haunting poems that twist your gut while making your heart sing.
"My love he wooed me
My love he slew me
My love he buried my bones
His love he married
His love I buried
My love now wanders alone."
The center of this story is Alice's dear grandmother Althea, whom she has never had the pleasure of meeting. When we meet Alice, we learn that she knows of her grandmother and her legacy. She is a famous writer of a collection of fairy tales called The Tales of The Hinterland, and she lives on an estate called The Hazel Wood, where her mother Ella grew up as a child. Though Alice has only ever once come across one copy of any of the elusive and ultra-rare stories, she had been forbidden by Ella to ever read any of the tales her mother wrote about. She is also warned to stay away from her grandmother's crazy obsessed fans, who seem to always track Ella and Alice down, begging for information about Althea and The Hinterland. Naturally, we need to know WHY!
So when Ella disappears and Alice is left all alone, she turns to a schoolmate that is the closest thing she has to a friend. Ellery Finch is a strange boy she knows from school, but one who shows her kindness…even if he does know who her grandmother is. It turns out, Finch is one of those crazy obsessed fans Alice is supposed to stay away from, but she enlists his help as he is the only one that has any information on her grandmother. Together they begin searching for clues as to the whereabouts of The Hazel Wood manor, all the while trying not to be killed by strange creatures.
The Hinterland is, well, wicked. It is dark and seedy, magical and dangerous, and alluring yet completely frightening. It is crawling with eerie beings who are both human and not, and I can only visualize it as Wonderland dropping into The Upside Down. The book is basically little fairy tales put into one giant fairy tale. It reads just like the dark folklore that makes your skin crawl while tickling your fancy. There are strange and curious characters at every turn, like a grandmother moon or  Twice-Killed Katherine. There are stories of a spoiled girl who makes a deal with the Night Women, a young woman who kills to seek death, and a princess born with black eyes.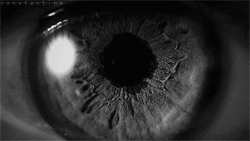 It is such an incredibly strange tale, but one I am completely enraptured with. I have already began reading book two, The Night Country, and I can say that I am just as hooked. Though I did find that The Hazel Wood was a little slow at times, it wasn't enough to make me want to put it down or sway my interest. I'm addicted to the odd and gritty nature of the book as a whole, and it just feels like a story I have been patiently waiting to be written. It is for the readers who, like me, want a little darkness poured into their magical teacups and just want to get lost in the woods.
Though I can't say much else without giving everything away, I highly recommend this read for those of you who haven't already read it. It is exactly what a YA Fantasy should be, and it is written like a dream with ripples of fog blurring the edges. I cannot wait to see what happens next!