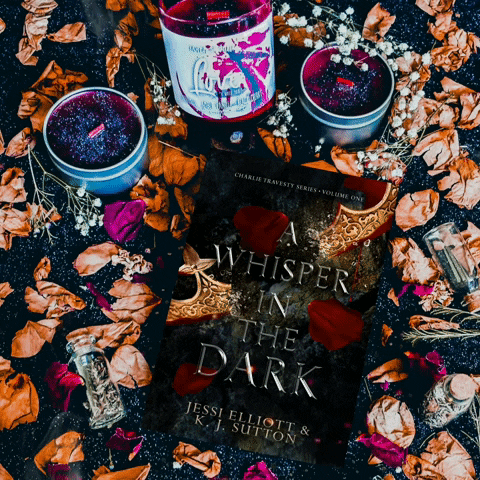 Disclaimer: This book was sent to me by the authors, Jessi Elliot and K.J. Sutton, for an honest review. 
Genre: Adult/Fantasy/Romance/paranormal-Vampires
Plot: A city ruled by vampires. A disgraced princess. A world underground.
Charlotte Travesty lives in a world of comfort. Glittering nightclubs, a lavish mansion, and a staff of humans at her beck and call. Being a royal vampire means her future is secured—all she has to do is get through the Awakening, an ancient ceremony every vampire experiences when they come of age.
But when her Awakening arrives at last, everything changes in one terrifying instant.
Cast from her home and rejected by the royal family, Charlie is forced into a life of fear and brutality. Where creatures called weepers live below the city, kept at bay by an unlucky sector of fighters enslaved by the very king who cast her out. Charlie now finds herself among the ranks.
She soon learns that weepers aren't all she needs to fear in her new life. Other workers are dying in the tunnels below ground. Charlie knows that if she's going to survive, she must form alliances with the very humans that despise her. But will she win their trust in time? Or will she die in the very darkness she was born to rule?
For fans of Sarah J. Maas's Crescent City and Charlaine Harris's Sookie Stackhouse series, A Whisper in the Dark is the first volume in the Charlie Travesty serial.
Opinion:
"The crown rests beside me – it must have fallen off while I slept."
A quick introduction to a new Adult Fantasy series that are bringing the Vamps back with a vengeance!
I LOVE anything by Kelsey Sutton, so of course when I found out she was working on a series of novellas with an author I hadn't had the pleasure of knowing about, I was SOLD. And in true K.J. Sutton fashion, she literally gives ZERO information ahead of time about what she is writing, and then just displays it in all it's glory on release day, on a platter of gold and blood. ❤
This first installment of the Charlie Travesty series was AMAZING! I was hooked from the first page until the last, immediately in love with our leading vamp Charlie, and obsessed with the world. I absolutely love a dystopian styled fantasy, especially one where Vampires rule over humans, and one where a royal "falls from grace".
In this vampire world, the Awakening is the moment when a vampire comes into who they are. Each eye color dictates where a vampire will reside and what their interests will be. Charlie, being an artist, hopes to wake with emerald eyes that will take her into Sul, the quarter for artists and writers. But when she wakes, her eye color shows the true proof of who Charlie really is.
I am so impressed with how easily this story flowed. Usually when you get a book written by two or more authors, there is a disconnect between the writing styles or the switch in voices in painfully obvious. And being such a HUGE K.J. Sutton fan, I figured I'd easily be able to tell which parts were written or influenced by Kelsey.
Well. Color me wrong AF.
You would NEVER guess this was written by two different people! The melding of these two creative minds is impeccable, and the story and world they created was addicting as hell. And even though I'm not a big novella reader, I really found myself preferring this pacing. It gets to the point, but not in a rushed way. I honestly had no problems at all with this book, and all I want is to read everything else these two beautiful writers put onto paper.