Disclaimer: This book was sent to me by the Publisher, Rock the Boat (Oneworld Publications), via Netgalley for an honest review.
Genre: YA/Contemporary/Abuse-Sexual and Domestic
Plot: No one has ever asked Izzy what she wants. She's about to change all that…

In a house adept at sweeping problems under the carpet, seventeen-year-old Izzy feels silenced. As her safety grows uncertain, Izzy know three things for sure. She knows not to tell her mother that Jacob Mansfield has been threatening to spread those kinds of photos around college. She knows to quiet the grief that she's been abandoned by her best friend Grace. And, seeing her mother conceal the truth of her stepdad's control, Izzy also knows not to mention how her heart splinters and her stomach churns whenever he enters a room.

When the flimsy fabric of their life starts to unravel, Izzy and her mum must find their way out of the silence and use the power in their voices to rediscover their worth.

For fans of Sara Barnard, Louise O'Neill and E. Lockhart, The Sky is Mine is a powerful exploration of rape culture and domestic abuse, and a moving story of women learning to love themselves enough to demand to be heard.
Opinion:
"Then he lets out this laugh that's like a puff of disgust and says something like 'gotcha' before the blast of cool air lets me know I'm still here, on the wrong side of the door, having been coaxed in by the surprise of Jacob's smile."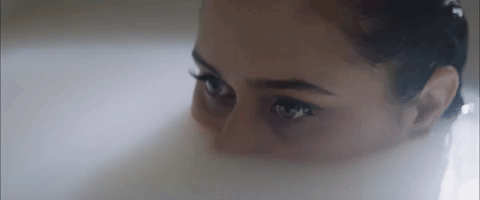 "Because this is what happens to girls like me with boys like Jacob. This is what we deserve. And I fall deeper and deeper into the well, away from the sun and the moon, where embers of whatever my voice could have been are immediately starved of air."
"If I thought it would make any difference, I would scream."
Izzy doesn't know where her voice went. Why her lips stay shut when Jacob is near, why she allows his hands to touch her skin. She doesn't want it to happen, she wants it to stop. But Jacob is dangling shame over her head and Izzy is all too familiar with the tricks of men. How he twists his words and so easily takes her power. To say nothing is almost easier. To just bear the weight of the ugliness and keep moving forward. That's what her mother does with Daniel, her stepdad. She keeps her mouth shut, her head down, and falls in line. But the loneliness that Izzy's secrets bring are weighing her down. She can't talk to her mother, who is just as silenced as she, and her best friend Grace is too preoccupied with her new girlfriend. So Izzy has to deal with it alone. Unless, she can find a way out.
"'I should go,' I say, but my words are an echo and his room is a cave with its closed curtains and the bedside lamp suddenly switched off by his swift fingers, which somehow turn to fire in the dark, spreading wild across my body so I can no longer tell which bit of him is where because the whole of Jacob is on me, against me, burning itself into me as my echo presses into what might be his chest but could be his shoulder.
Whatever piece of him is so close to my mouth, it melts my ability to speak, any words I try to summon seeping into a wet patch of nothing on his shirt."
"I'd disappear if I could, but I can't."
I have never highlighted so many quotes in a book, in my life. But the quantity of these highlights, though very large, doesn't even compare to the quality and punch they pack. Amy Beashel has reached into the heart of so many young girls and women and extracted those feeling of loneliness, fear, regret, shame, self-loathing, anger and sadness. She took the ugliness that we have all felt, and sometimes still feel, and she has screamed it through black ink on thin pieces of paper. This book is powerful. It hurts, it hits an all too familiar nerve, and it leaves an ache in your gut. It is something so many of us have felt, and something so many of us have always been afraid of.
"'You were gone, Izzy.'
'No more than you or Jacob or any of your other mates.'
'Isn't the same for us though, is it?'"
This isn't a lighthearted story. It's about sexual abuse and rape. About domestic abuse, manipulation and control. It's about a daughter who is going through hell in the confines of a boy's bedroom, and a mother who suffers in her own home, while her daughter watches. It is pure heartbreak and sorrow, and this author captures it in a way that feels all too real.
"Everything just kind of gives in.
I shouldn't be here."
Izzy's character feels so true and authentic. A girl who knows she doesn't want the things that are happening to her to be happening, but is unable to speak up. And as the reader follows her into her memories of the party, and into the bedroom of a boy that is blackmailing her, we begin to realize how and why that is. The relationship between her mother and her stepdad is volatile and and confusing, as is her own relationship with her stepfather, Daniel. So many controlling phrases said with smiles, or harsh japes delivered with an upbeat tone. And even a lingering of Daniel's hand on her back for a second too long, or a look down towards her chest. It is no wonder that Izzy says nothing, because that is exactly what her mother does.
"…and me looking at my thighs in the mirror wondering how all those other girls do it. Fall out of hate with their bodies, I mean.
'You're beautiful', Mum whispers when Daniel leaves the kitchen, but her voice is too much like tissue paper to wrap me up in anything that feels like safety or strength or truth."
The abuse that Izzy's mother endures through her marriage is easily frustrating as you read. Her timid behavior, the way she says nothing when Daniel talks down to Izzy, or the way she refuses to speak with Izzy when Izzy attempts to reach out to her. It is painful to watch, but unfortunately, it mirrors so many true relationships of how a woman will hold on, even if it's hurting her. I was angry that her mother would stay and not get Izzy out of that house, or that she wasn't more observant to how Daniel behaved around around her daughter…but I imagine that is the point, isn't it? To spark an anger in the reader, because these situations are all too real and and equally emotionally confusing.
And how the behavior of her mother intertwines with how Izzy treats her own relationships and situations is…devastating. There were tears constantly in my eyes and a sickness in my stomach as Izzy describes her despair. Her loneliness and fear, or how she goes along with a boy's request because she feels she has no other options.
"My chest and my belly turning from chalky mass to scarlet mass in the rush of the water, which, no matter how high I turn the dial on the shower, still can't shift the stickiness of Jacob's hands and mouth and his tongue that slicked those words: 'Relax, Izzy. It'll be so much better if you just fucking relax.'
Cos those words, they're as wedged as the earplugs I've used on the worst kinds of nights when Daniel's done what he's done, and he's left, and Mum's crying is as quiet as she can make it, but for all her effort, that sinking weep of hers seeps through the walls like blood on toilet paper."
But what really stands out to me about this story, is the imperfections and unsavory characteristics. Of how not everything turns out perfectly. Of how some things improve and change, but how the trauma molds these two women. How it shifts their mother daughter relationship and jumbles it up into a ball of confusion and assumptions about how the other had been feeling. The author so beautifully displayed how Izzy saw things from her perspective, and then how her mother saw them and what was going through her head. But even so, the theme of this story is their silence and how they learn to find their voices.
"…she doesn't even try, just sits there as I work on being a rock, dry and deserted, pulling back the tears and filing my mouth with biscuits so it doesn't accidentally fill with words."
There is a romance aspect that comes to Izzy, and to be honest, I wasn't really sure it was necessary or that I even wanted it to be there. I wanted Izzy to find self-worth and strength on her own or with her mother. And though she does in some ways, the fact that part of it came from a boy sort of…rubs me the wrong way. Izzy's best friend Grace on the other hand, is everything I wanted and needed. Grace is so sure, so herself…it's astounding. She is her own body and her own soul, and it was the most beautiful thing to witness, especially as she builds Izzy up and forces her to see her own beauty.
"'You're fuckin' perfect. Look at us,' she says, dragging me to the mirror, 'we both are.'"
This book was so sad and beautiful, I am so glad I found it. I always gravitate towards stories like this, but the last few I have read were less than impressive. Thankfully, Amy Beashel has blown me away and made my entire demeanor deflate from sadness. Which I know sounds bad, but I love when a book does this to me. Bravo Amy.
"'Would you like to talk to me about what happened?' she asks.
'Yes,' I say.
And the word is an expanding universe. Any my voice?
Well, My voice is the goddamn Big Bang."