Disclaimer: This book was sent to me by the publisher, Bloomsbury, for an honest review.
Genre: YA/Contemporary
Plot: Johanna has had more than enough trauma in her life. She lost her mom in a car accident, and her father went AWOL when Johanna was just a baby. At sixteen, life is steady, boring . . . maybe even stifling, since she's being raised by her grandparents who never talk about their daughter, her mother Mandy.
Then he comes back: Robert Newsome, Johanna's father, bringing memories and pictures of Mandy. But that's not all he shares. A tragic car accident didn't kill Mandy–it was Johanna, who at two years old, accidentally shot her own mother with an unsecured gun.
Now Johanna has to sort through it all–the return of her absentee father, her grandparents' lies, her part in her mother's death. But no one, neither her loyal best friends nor her sweet new boyfriend, can help her forgive them. Most of all, can she ever find a way to forgive herself?
In a searing, ultimately uplifting story, debut author Alex Richards tackles a different side of the important issue that has galvanized teens across our country.
Opinion:
"𝑨𝒍𝒍 𝒘𝒆𝒆𝒌 𝒍𝒐𝒏𝒈, 𝒕𝒉𝒆 𝑨𝒎𝒆𝒓𝒊𝒄𝒂𝒏 𝒇𝒍𝒂𝒈 𝒐𝒏 𝒐𝒖𝒓 𝒇𝒓𝒐𝒏𝒕 𝒍𝒂𝒘𝒏 𝒇𝒍𝒂𝒑𝒔 𝒂𝒏𝒈𝒓𝒊𝒍𝒚 𝒊𝒏 𝒕𝒉𝒆 𝒘𝒊𝒏𝒅. 𝑾𝒆𝒊𝒓𝒅 𝒉𝒐𝒘 𝑰 𝒏𝒆𝒗𝒆𝒓 𝒖𝒔𝒆𝒅 𝒕𝒐 𝒏𝒐𝒕𝒊𝒄𝒆 𝒊𝒕 𝒖𝒑 𝒕𝒉𝒆𝒓𝒆 – 𝒕𝒉𝒊𝒔 𝒉𝒖𝒈𝒆, 𝒅𝒖𝒓𝒂𝒃𝒍𝒆 𝒂𝒅 𝒇𝒐𝒓 𝒐𝒖𝒓 𝒑𝒂𝒕𝒓𝒊𝒐𝒕𝒊𝒔𝒎.
.
𝑰 𝒘𝒐𝒏𝒅𝒆𝒓 𝒊𝒇 𝒎𝒚 𝒈𝒓𝒂𝒏𝒅𝒑𝒂𝒓𝒆𝒏𝒕𝒔 𝒐𝒘𝒏𝒆𝒅 𝒕𝒉𝒂𝒕 𝒇𝒍𝒂𝒈 𝒃𝒆𝒇𝒐𝒓𝒆 𝒐𝒓 𝒂𝒇𝒕𝒆𝒓 𝑰 𝒔𝒉𝒐𝒕 𝒂𝒏𝒅 𝒌𝒊𝒍𝒍𝒆𝒅 𝒕𝒉𝒆𝒊𝒓 𝒅𝒂𝒖𝒈𝒉𝒕𝒆𝒓."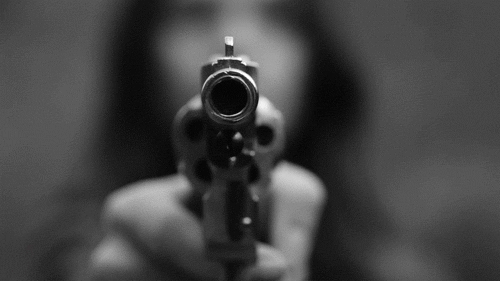 "𝑩𝒍𝒊𝒏𝒌 𝒕𝒘𝒊𝒄𝒆 𝒊𝒇 𝒚𝒐𝒖'𝒓𝒆 𝒕𝒓𝒂𝒑𝒑𝒆𝒅 𝒊𝒏 𝒂 𝒉𝒐𝒔𝒕𝒊𝒍𝒆 𝒔𝒊𝒕𝒖𝒂𝒕𝒊𝒐𝒏."
Johanna has been raised by her grandparents for most of her life, due to her father bailing and her mother dying in a car accident when she was almost three. But at sixteen, Johanna feels like she's beginning to forget her mother entirely and it doesn't help that her grandparents refuse to talk about her. But life for Johanna isn't so bad. She has two amazing best friends who are more like sisters, and the new kid at school seems to have his eye on her. But when Jo gets a letter in the mail from her father who is wishing to reconnect, her seemingly ordinary life implodes. With her father's sudden reappearance in her life comes the truth of her childhood and the real cause of death of her mother. Because it wasn't a car accident that killed Johanna's mother…

…it was her.
Deep breath, baby angels.
It's a heavy hitter.
"𝑾𝒐𝒓𝒅𝒔 𝒇𝒍𝒚 𝒐𝒖𝒕 𝒐𝒇 𝑹𝒐𝒃𝒆𝒓𝒕'𝒔 𝒎𝒐𝒖𝒕𝒉 𝒂𝒏𝒅 𝒃𝒐𝒃 𝒂𝒓𝒐𝒖𝒏𝒅 𝒕𝒉𝒆 𝒓𝒐𝒐𝒎 𝒍𝒊𝒌𝒆 𝒃𝒂𝒕𝒔. 𝑻𝒉𝒆𝒚'𝒓𝒆 𝒇𝒂𝒎𝒊𝒍𝒊𝒂𝒓 𝒘𝒐𝒓𝒅𝒔 – 𝒅𝒊𝒄𝒕𝒊𝒐𝒏𝒂𝒓𝒚 𝒘𝒐𝒓𝒅𝒔 – 𝒃𝒖𝒕 𝒏𝒐𝒏𝒆 𝒐𝒇 𝒕𝒉𝒆𝒎 𝒇𝒊𝒕 𝒕𝒐𝒈𝒆𝒕𝒉𝒆𝒓 𝒊𝒏 𝒂 𝒘𝒂𝒚 𝑰 𝒄𝒂𝒏 𝒖𝒏𝒅𝒆𝒓𝒔𝒕𝒂𝒏𝒅. 𝑰𝒕'𝒔 𝒂 𝒔𝒕𝒐𝒓𝒚 𝒃𝒆𝒊𝒏𝒈 𝒕𝒐𝒍𝒅 𝒕𝒐 𝒎𝒆 𝒊𝒏 𝒂 𝒏𝒊𝒈𝒉𝒕𝒎𝒂𝒓𝒆 𝒐𝒓 𝒔𝒐𝒎𝒆 𝒑𝒂𝒓𝒂𝒍𝒍𝒆𝒍 𝒖𝒏𝒊𝒗𝒆𝒓𝒔𝒆, 𝒂𝒏𝒅 𝒎𝒚 𝒗𝒊𝒔𝒊𝒐𝒏 𝒔𝒆𝒆𝒎𝒔 𝒕𝒐 𝒃𝒍𝒂𝒄𝒌𝒆𝒏 𝒊𝒏 𝒓𝒆𝒔𝒑𝒐𝒏𝒔𝒆."
The gun control topic is a controversial one, and with this being a book that centers around gun violence, be prepared for moments that may differ from your personal opinions. But for those of you who are weary that this will be a "preachy" YA Contemporary, rest assured that both sides to this debate are represented and it's dealt with in a delicate manner that doesn't take away from what this story really is – a coming-of-age tale about trauma, forgiveness, growth and self-love.
Accidental is an emotional and surreal story that centers on how common it is for children to come across easily accessible guns in their homes. At two and a half, while her father was out of town, Johanna and her mother were taking a nap when Johanna awakens and begins to wander. She finds her father's gun under her parent's bed, and ends up pulling the trigger and shooting her mother in the chest – killing her.
But upon the reader meeting Johanna, we learn that she has no idea of what took place when she was a toddler. At sixteen, Jo is a typical teenager living in Santa Fe and going to a prestigious high school. She has two quirky, spirited and vivacious best friends and she spends her time sewing her own clothes and slinging sassy comebacks at idiotic guys in her class. She's a lively and charismatic character from the start, describing the pains of living with her very religious grandparents, but also expressing a deep love for them both.
But the ease in Jo's life quickly changes with the reemergence of her estranged father, and his confession of Jo and Amanda's truth.
"𝑻𝒘𝒐 𝒄𝒚𝒎𝒃𝒂𝒍𝒔, 𝒄𝒓𝒂𝒔𝒉𝒊𝒏𝒈 𝒐𝒏 𝒓𝒆𝒑𝒆𝒂𝒕 –
𝑭𝑨𝑻𝑯𝑬𝑹!
𝑭𝑨𝑻𝑯𝑬𝑹!
𝑭𝑨𝑻𝑯𝑬𝑹!"
The reason this story packs such a punch, is because the situation could have happened to any of us. It was incredibly easy to slide into Jo's shoes and understand the confusion, sadness, regret, hurt, horror and anger she felt when the truth of her mother was revealed. How devastating it is when something so horrible can become your reality, and the hurt that comes with it when you don't have a support system at home to guide you through it.
"𝑺𝒐, 𝒊𝒏𝒔𝒕𝒆𝒂𝒅, 𝑰 𝒈𝒐. 𝑾𝒊𝒕𝒉𝒐𝒖𝒕 𝒔𝒂𝒚𝒊𝒏𝒈 𝒈𝒐𝒐𝒅𝒃𝒚𝒆, 𝒘𝒊𝒕𝒉𝒐𝒖𝒕 𝒕𝒆𝒍𝒍𝒊𝒏𝒈 𝒕𝒉𝒆𝒎 𝒘𝒉𝒆𝒏 𝑰'𝒍𝒍 𝒃𝒆 𝒉𝒐𝒎𝒆. 𝑰 𝒔𝒊𝒎𝒑𝒍𝒚 𝒔𝒑𝒊𝒏 𝒂𝒓𝒐𝒖𝒏𝒅 𝒂𝒏𝒅 𝒔𝒕𝒂𝒍𝒌 𝒂𝒄𝒓𝒐𝒔𝒔 𝒕𝒉𝒆 𝒑𝒂𝒓𝒌𝒊𝒏𝒈 𝒍𝒐𝒕 𝒕𝒐𝒘𝒂𝒓𝒅 𝒎𝒚 𝒄𝒂𝒓, 𝒕𝒉𝒆 𝒘𝒉𝒐𝒍𝒆 𝒕𝒊𝒎𝒆 𝒕𝒓𝒚𝒊𝒏𝒈 𝒏𝒐𝒕 𝒕𝒐 𝒕𝒉𝒊𝒏𝒌 𝒕𝒐𝒐 𝒉𝒂𝒓𝒅 𝒐𝒏 𝒕𝒉𝒆 𝒇𝒂𝒄𝒕 𝒕𝒉𝒂𝒕 𝑮𝒓𝒂𝒏 𝒔𝒐 𝒘𝒊𝒍𝒍𝒊𝒏𝒈𝒍𝒚 𝒍𝒆𝒕 𝒎𝒆 𝒈𝒐. 𝑻𝒉𝒆 𝒇𝒂𝒄𝒕 𝒕𝒉𝒂𝒕 𝒎𝒂𝒚𝒃𝒆 𝑰'𝒎 𝒏𝒐𝒕 𝒘𝒐𝒓𝒕𝒉 𝒇𝒊𝒈𝒉𝒕𝒊𝒏𝒈 𝒇𝒐𝒓 𝒂𝒏𝒚𝒎𝒐𝒓𝒆."
When Jo reveals to her grandparents that she knows the truth about her mother, they still refuse to speak about it. They brush it under the rug, preferring silence and forced indifference. And though it is shocking that they lied to her about how her mother died…I don't blame them for the decision they made in protecting her.
But the way they handle Jo's trauma and their own is…suffocating.
There are no pictures on the walls or in photo albums of Jo's mother. None of her mementos are displayed and she is never brought up or talked about. So Jo is left feeling as if she cannot speak about this woman she has so much love for, but is starting to forget. This woman she so desperately craves was in her life and guiding her through her teenage years.
This woman who she believes she murdered.
"𝑯𝒆 𝒔𝒄𝒐𝒐𝒑𝒔 𝒎𝒚 𝒓𝒊𝒈𝒊𝒅 𝒃𝒐𝒅𝒚 𝒕𝒐𝒘𝒂𝒓𝒅 𝒉𝒊𝒎, 𝒕𝒊𝒈𝒉𝒕 𝒊𝒏𝒕𝒐 𝒉𝒊𝒔 𝒄𝒉𝒆𝒔𝒕. 𝑺𝒐 𝒄𝒍𝒐𝒔𝒆 𝒕𝒉𝒂𝒕 𝑰 𝒄𝒂𝒏 𝒉𝒆𝒂𝒓 𝒉𝒊𝒔 𝒉𝒆𝒂𝒓 𝒃𝒆𝒂𝒕𝒊𝒏𝒈, 𝒆𝒂𝒄𝒉 𝒃𝒖-𝒃𝒖𝒎 𝒃𝒖-𝒃𝒖𝒎 𝒃𝒖-𝒃𝒖𝒎 𝒕𝒖𝒓𝒏𝒊𝒏𝒈 𝒊𝒏𝒕𝒐 𝒂 𝒈𝒖𝒏𝒔𝒉𝒐𝒕. 𝑶𝒏𝒆 𝒂𝒇𝒕𝒆𝒓 𝒂𝒏𝒐𝒕𝒉𝒆𝒓.
𝑩𝒂𝒏𝒈.
𝑩𝒂𝒏𝒈.
𝑩𝒂𝒏𝒈."
Thankfully, Jo has two epic best friends that I wish upon all wishes and stars that I could have in my life.
"𝑻𝒉𝒆 𝒅𝒐𝒐𝒓 𝒄𝒍𝒊𝒄𝒌𝒔 𝒔𝒉𝒖𝒕. 𝑻𝒘𝒐 𝒈𝒆𝒏𝒕𝒍𝒆 𝒔𝒆𝒕𝒔 𝒐𝒇 𝒇𝒆𝒆𝒕 𝒕𝒊𝒑𝒕𝒐𝒆 𝒂𝒄𝒓𝒐𝒔𝒔 𝒕𝒉𝒆 𝒓𝒐𝒐𝒎, 𝒎𝒂𝒏𝒈𝒐 𝒃𝒐𝒅𝒚 𝒎𝒊𝒔𝒕 𝒂𝒏𝒅 𝑫𝒂𝒊𝒔𝒚 𝒑𝒆𝒓𝒇𝒖𝒎𝒆 𝒘𝒂𝒇𝒕𝒊𝒏𝒈 𝒊𝒏 𝒘𝒊𝒕𝒉 𝒕𝒉𝒆𝒎. 𝑳𝒆𝒂𝒉 𝒄𝒖𝒓𝒍𝒔 𝒖𝒑 𝒐𝒏 𝒐𝒏𝒆 𝒔𝒊𝒅𝒆 𝒐𝒇 𝒎𝒆, 𝑮𝒂𝒃𝒃𝒚 𝒐𝒏 𝒕𝒉𝒆 𝒐𝒕𝒉𝒆𝒓. 𝑺𝒘𝒆𝒂𝒕𝒆𝒓𝒔 𝒘𝒂𝒓𝒎, 𝒔𝒌𝒊𝒏 𝒄𝒐𝒍𝒅. 𝑴𝒚 𝒕𝒓𝒖𝒔𝒕𝒚 𝑹𝒐𝒕𝒕𝒘𝒆𝒊𝒍𝒆𝒓𝒔 𝒅𝒐𝒏'𝒕 𝒔𝒂𝒚 𝒂𝒏𝒚𝒕𝒉𝒊𝒏𝒈."
These girls are the rocks that keep Jo from slipping down a river of depression and deep self-loathing. They are fiercely loyal and understanding, go out of their way to ensure that their friend is cared for and heard, and refuse to leave her side. Their love for one another had me hardcore tearing up and cooing throughout the story. These two girls make this story.
"𝑰 𝒔𝒒𝒖𝒆𝒆𝒛𝒆 𝒎𝒚 𝒆𝒚𝒆𝒔 𝒔𝒉𝒖𝒕 𝒂𝒏𝒅 𝒕𝒉𝒆𝒏 𝒐𝒑𝒆𝒏 𝒕𝒉𝒆𝒎 𝒘𝒊𝒕𝒉 𝒂 𝒔𝒉𝒂𝒓𝒑 𝒊𝒏𝒉𝒂𝒍𝒆, 𝒏𝒐𝒕𝒊𝒄𝒊𝒏𝒈 𝒂 𝒈𝒖𝒏-𝒔𝒉𝒂𝒑𝒆𝒅 𝒄𝒓𝒂𝒄𝒌 𝒂𝒃𝒐𝒗𝒆 𝒕𝒉𝒆 𝒄𝒍𝒐𝒔𝒆𝒕 𝒅𝒐𝒐𝒓. 𝑬𝒗𝒆𝒏 𝑴𝒊𝒍𝒐'𝒔 𝒄𝒆𝒊𝒍𝒊𝒏𝒈 𝒌𝒏𝒐𝒘𝒔 𝒘𝒉𝒂𝒕 𝑰'𝒗𝒆 𝒅𝒐𝒏𝒆."
"𝑴𝒊𝒍𝒐 𝒇𝒓𝒐𝒎 𝒉𝒊𝒔𝒕𝒐𝒓𝒚."
Another big character in this story is Milo – the new boy in school and Jo's new boyfriend. Their romance is sweet and their chemistry is sizzling, but more importantly, Milo is another person in Jo's life that she can lean on for support. Though he doesn't have as big a role as Leah and Gabby, and his personality doesn't shine through as much as the girls, his own troubles with his father gives a level of understanding to Milo and Jo that can't be emulated. And no matter how dark Jo's life gets, Milo is always there to help her see the light.
"𝑰𝒕 𝒘𝒂𝒔 𝒇𝒖𝒏, 𝒃𝒖𝒕 𝑰'𝒎 𝒌𝒊𝒏𝒅 𝒐𝒇 𝒅𝒂𝒎𝒂𝒈𝒆𝒅 𝒈𝒐𝒐𝒅𝒔."
"𝑵𝒐𝒕 𝒅𝒂𝒎𝒂𝒈𝒆𝒅," 𝒉𝒆 𝒘𝒉𝒊𝒔𝒑𝒆𝒓𝒔. "𝑱𝒖𝒔𝒕 𝒈𝒐𝒐𝒅."
For the first half of this book, the reader watches Jo slowly spiral into anger and a sort of manic state as she tries to cope with her past. And at sixteen, it's not exactly easy to have control over your emotions. But the person Jo turns into in the second half of the book was irritating. She was aggressive and constantly throwing tantrums, stomping her foot and having explosive reactions to the littlest things. Of course, this does feel authentic to a young teenager going through some serious trauma – but it was still exhausting and a turn-off.
And how Johanna works towards getting a mural painted at her school to shed light on gun violence was also…cringey. By this point Jo is full-blown immature and slightly ridiculous, so it was a bit harder to get through. And though this was a gut-flipping story, I was really wanting more emotion from Jo because I didn't feel like I got a true sense of the chaos that was brewing inside her. She had huge reactions and panic attacks, but I wanted more description into how hurt and lost she felt inside.
But the real driving force in this story is obviously gun safety, but also self-acceptance and the need to work through trauma.
When Jo's father renters her life, he brings a few secrets with him that he slowly reveals along the way, and they're tragic. It broke my heart how Jo was constantly let down by these really big parental figures in her life. But, imagine it. Not only are you the cause for your mother dying, but you are also the spitting image of a daughter and lover that has been lost. Nothing about this situation is easier or less horrible for anyone involved.
Accidental is a powerful and heartbreaking story, but a necessary one.
No matter what stance you take on this topic, trust me when I say, you need to read this.
"𝑰 𝒍𝒐𝒗𝒆 𝒚𝒐𝒖, 𝒌𝒊𝒅𝒅𝒐. 𝑩𝒚𝒆."
"𝑰 𝒍𝒐𝒗𝒆 𝒚𝒐𝒖, 𝒌𝒊𝒅𝒅𝒐."
"𝑰 𝒍𝒐𝒗𝒆 𝒚𝒐𝒖."