*No Spoilers*
Genre: Adult Fantasy/Romance
Plot: Human or vampire, the rules of survival are the same: never trust, never yield, and always – always – guard your heart.
The adopted human daughter of the Nightborn vampire king, Oraya carved her place in a world designed to kill her. Her only chance to become something more than prey is entering the Kejari: a legendary tournament held by the goddess of death herself.
But winning won't be easy amongst the most vicious warriors from all three vampire houses. To survive, Oraya is forced to make an alliance with a mysterious rival.
Everything about Raihn is dangerous. He is a ruthless vampire, an efficient killer, an enemy to her father's crown… and her greatest competition. Yet, what terrifies Oraya most of all is that she finds herself oddly drawn to him.
But there's no room for compassion in the Kejari. War for the House of Night brews, shattering everything that Oraya thought she knew about her home. And Raihn may understand her more than anyone – but their blossoming attraction could be her downfall, in a kingdom where nothing is more deadly than love.
Opinion:
"She was a lone flutter of life in an endless expanse of decay,
the only living mortal for a hundred miles."
"Don't Look away, Little Serpent."
Oraya lives in a world where she can never let her guard down. As the adopted human daughter of  a vampire King, and constant prey in the vampire world, Oraya has always been taught to show her teeth and to wield her body as a weapon. The training instilled in her from childhood was a way for her father to keep her safe, and a means to prepare her for her future as a contestant in the Kejari. A ruthless tournament held once every hundred years, vampires from every corner of Obitraes offer their blood and bodies in order to fight to the death, in honor of their Goddess Nyaxia and the opportunity to be gifted a blessing by the dark Goddess herself. For Oraya, her wish is simple, to become a powerful vampire and to fight alongside her father, Victor. But in the vampire world, nothing is as it seems. Lies are traded like blood soaked smiles and even love comes last next to power. But when Oraya comes across a Rishan vampire in her trials, everything she has been taught is put to the test. The most important being that love and trust almost certainly leads to death.
"And love, understand, is sharper than any stake."
Can I just say…
WOW.
I haven't written a book review in about three years, and part of my problem is that I have fallen out of love with YA. And though I have grown to love the gore with age, my love for fantasy trumps everything. But I have had a horrible time finding adult fantasy books that aren't riddled with trash writing and overly aggressive smut. Listen, I love some heavy adult romance just like the next swoon-er of debauchery, but must the writing be compromised in lieu of sexual book intercourse?!
I think not.
So thank the dark mother I found author Carissa Broadbent!
What. A. BEAUTIFUL. Writer!
"Death isn't frightening when weighed against an insignificant existence."
I love to smother a review with quotes and snippets of the authors creativity, and this review is no exception. And it was honestly so easy to do so, because Carissa's writing is stunning. Her quotes are seriously to die for! She captures the darkness of the world and its inhabitants in a gritty and depraved way. Her characters are not cookie-cutter sparkly vampires, and her human female protagonist doesn't lack brains. These people are ruthless, cunning, unapologetic, expressive and imposing figures.
"I pulled him close, caressed his face with my red-stained hands, and made sure ******'s blood marked him as I let him slump down in a puddle of his own cowardice."
Speaking of badass characters, Oraya is everything  I want in a female lead.
Though she is human and obviously at a huge disadvantage being surrounded by vampires, this girl is no joke. She is tough as nails and makes you question why you have the inability to shove a dagger into someone's chest with such ease.
(I'm kidding, that's illegal)
"Vampires were stronger than me in every way – their bodies more muscular, movements swifter, teeth sharper.
But their hearts were just as soft."
"You have to push hard to make it through the breastbone."
This girl has mad skills and is able to compete with about 50 other vampires who have had hundreds of years to perfect their brutality. She is smart, observant, calculating and acutely aware that she can become a meal at any given moment if she even slightly f**ks up. And it isn't only vampires Oraya needs to watch out for. There are 5 trials total that make up the Kejari, and it isn't only contestants that one must fight against.
"I dreamed of goddesses and trials and sharpened teeth, and exactly how Nightborn steel might feel sliding deep into my back."
Think of it as a Hunger Games for vampires.
"You may defend yourself against aggressors…However, the Goddess appreciates the gift of blood within her trials."
The only difference being that all of these vamps offer themselves up as tribute. But in each trial, there are demonic creatures, poisoned and rabid animals and spells set up to kill you at every corner. One must be aware of their competitors, as well as what lurks in the shadows.

But fairly quickly into the competition, Oraya is forced to form an alliance with her enemies. It is well known that the third trial should be completed with the help of teammates, so small groups are formed throughout fairly early on. After unforseen events, Oraya finds herself stuck with a Rishan vampire named Raihn and his odd and overly perky friend, Mische. To say that these two vampires are different from the rest would be an understatement, especially Mische, who acts more human than than undead.
"There's no bonding like bonding over murder…"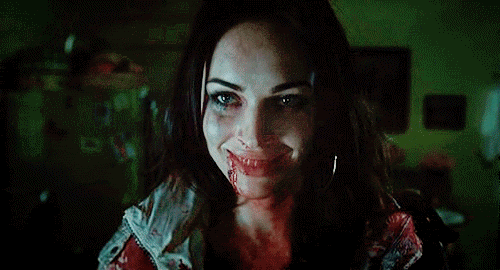 And one of my favorite things about this book was how many times I literally laughed out loud.
Because Carissa is witty!
"I adjusted my hold around the child and mumbled something that somewhat resembled an apology, and Raihn told me to go fuck myself."
There's something about a group of characters who don't mean to be hilarious that makes my evil all giddy inside. Mische is so sweet and sincere, so when she does something incredibly psychotic I can't help but smile the cruelest smile I've ever worn. Raihn has the potential to be like every other tall, dark and handsome winged friend that now graces the oily pages of every fantasy world these days…and don't get me wrong, he IS. But he's far less broody, cranky and arrogant compared to every other male lead just like him. He feels far more human and realistic, and I really need to thank the author for making him that way. There's something so much more profound when a fantasy character feels like he could be a real person.
I also adore how she made Oraya such a grounded person that has witt and emotions, but she doesn't let those traits overshadow her character. I am so tired of the overly hard female leads who can't stop being sassy with constant snarky remarks, but I also find myself so sick of the helpless human girls who don't seem to have a sliver of brain in their pretty little heads. Oraya is the perfect amount of feminine and masculine, has a sweet nativity about her even though she is highly trained in how to protect herself, and even gets her ass kicked on more than one occasion. Carissa Broadbent did an amazing job of showing just how human she is.
But let's get to the good s**t, shall we?
Swoonage? Immaculate.
Smut? Tasteful.
Believability? Undeniable.
"Because suddenly, I understood what it was like to be hungry."
Ladies and gents, this romance is to die for.
It's everything you could ever want.
An enemies to lovers, infectious slow-burn that will leave you in a frenzy to get to the last page, but satiated as you're eyeballs are dribbled in gore and violence.
"I could open his shirt, slide my hands over the expanse of his chest, and thrust my poison blade right here – right into his heart. He could tear away this ridiculous delicate spiderweb of a dress and cut me open.
The two of us could burn each other up."
I don't want to say too much to give away what happens, but please trust me when I express how beautiful, dark, treacherous and hopeful it is. I couldn't help the endless *sighs* and swoons that fluttered in my head and heart, and I think I may be dying slightly as I wait for the release of book 2.
"I could have wept for it."
Because along with this romance, you get glimpses of the past that aren't revealed towards the end, and DAMN if they are not DEVASTATING.
"Bloodlust, understand, is a terrible thing."
Like stab my heart, devastating. 
"The blood that spilled over that marble floor, though…
Those are the stains on one's innocence that never fade."
Speaking of devastating…the BLINDSIDES! Carissa, how could you do that to me?! My hope! My trust! My NAIVETY!!!! AHHHHH!!!!! I read this book for a buddy read, so it is marked to all hell with highlights, notes and blue tabs…and I cannot even express the color vomit that has been seeped into the last portion of this book. I felt all the emotions at the end, and it has been expressed on these pages with fierce underlines and curse words galore. 
I am anger. I am sadness.
I am Carissa's deep betrayal. 
Well played, Carissa. Well played.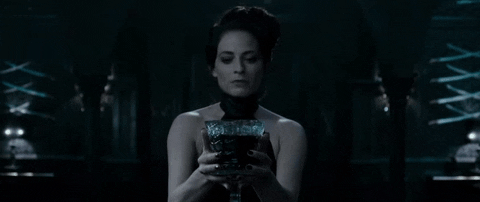 Looming cliff-hanger aside, get the book.
It's a consuming, action-packed tale set in a world of insane creatures that barely even care for the people they love. It's emotional, raw, exciting, debilitating and exhilarating. It got me out of my three year reading slump, and now all I want is more. You won't regret this beautiful read, trust me.
"Not tonight."