Disclaimer: This book was sent to me by the publisher, Simon and Schuster Children's Publishing,  via Netgalley for an honest review.
Genre: YA/Contemporary/Mystery/Thriller
Plot: What happened to Zoe won't stay buried…
When Anna Cicconi arrives to the small Hamptons village of Herron Mills for a summer nanny gig, she has high hopes for a fresh start. What she finds instead is a community on edge after the disappearance of Zoe Spanos, a local girl who has been missing since New Year's Eve. Anna bears an eerie resemblance to Zoe, and her mere presence in town stirs up still-raw feelings about the unsolved case. As Anna delves deeper into the mystery, stepping further and further into Zoe's life, she becomes increasingly convinced that she and Zoe are connected–and that she knows what happened to her.
Two months later, Zoe's body is found in a nearby lake, and Anna is charged with manslaughter. But Anna's confession is riddled with holes, and Martina Green, teen host of the Missing Zoe podcast, isn't satisfied. Did Anna really kill Zoe? And if not, can Martina's podcast uncover the truth? 
Opinion:
"𝑾𝒉𝒂𝒕 𝐝𝐨 𝒚𝒐𝒖 𝒓𝒆𝒎𝒆𝒎𝒃𝒆𝒓, 𝑨𝒏𝒏𝒂?"
"𝑰 𝒓𝒆𝒎𝒆𝒎𝒃𝒆𝒓 𝒕𝒉𝒆 𝒘𝒂𝒕𝒆𝒓. 𝑰𝒕 𝒘𝒂𝒔 𝒈𝒓𝒂𝒚 𝒂𝒏𝒅 𝒅𝒖𝒍𝒍, 𝒍𝒊𝒌𝒆 𝒂𝒏 𝒐𝒍𝒅 𝒄𝒂𝒓 𝒘𝒊𝒕𝒉 𝒑𝒂𝒊𝒏𝒕 𝒘𝒐𝒓𝒏 𝒐𝒇𝒇. 𝑰 𝒓𝒆𝒎𝒆𝒎𝒃𝒆𝒓 𝒌𝒏𝒆𝒆𝒍𝒊𝒏𝒈 𝒐𝒏 𝒕𝒉𝒆 𝒃𝒂𝒏𝒌, 𝒔𝒕𝒂𝒓𝒊𝒏𝒈 𝒐𝒖𝒕 𝒂𝒄𝒓𝒐𝒔𝒔 𝒕𝒉𝒆 𝒔𝒖𝒓𝒇𝒂𝒄𝒆 𝒂𝒇𝒕𝒆𝒓 𝒔𝒉𝒆 𝒘𝒂𝒔 𝒅𝒐𝒘𝒏 𝒕𝒉𝒆𝒓𝒆. 𝑰 𝒓𝒆𝒎𝒆𝒎𝒃𝒆𝒓 𝒉𝒐𝒘 𝒄𝒐𝒍𝒅 𝒊𝒕 𝒘𝒂𝒔 𝒕𝒉𝒂𝒕 𝒏𝒊𝒈𝒉𝒕, 𝒉𝒐𝒘 𝒕𝒉𝒆 𝒘𝒊𝒏𝒅 𝒘𝒂𝒔 𝒔𝒉𝒂𝒓𝒑 𝒂𝒏𝒅 𝒘𝒆𝒕 𝒂𝒈𝒂𝒊𝒏𝒔𝒕 𝒎𝒚 𝒄𝒉𝒆𝒆𝒌𝒔.
𝑴𝒐𝒔𝒕 𝒐𝒇 𝒂𝒍𝒍, 𝑰 𝒓𝒆𝒎𝒆𝒎𝒃𝒆𝒓 𝒕𝒉𝒆 𝒈𝒖𝒊𝒍𝒕, 𝒉𝒐𝒘 𝒊𝒕 𝒄𝒓𝒖𝒔𝒉𝒆𝒅 𝒕𝒉𝒆 𝒂𝒊𝒓 𝒐𝒖𝒕 𝒐𝒇 𝒎𝒚 𝒍𝒖𝒏𝒈𝒔."
Damn.
What a whirlwind of wild this little beauty turned out to be.
I Killed Zoe Spanos is told from two POVs – Anna Cicconi, the main lead and prime suspect in the disappearance and murder of Zoe after a shocking confession, and Martina Green, a friend of Zoe's younger sister with aspiring journalistic dreams and a promise to find out what really happened. The story flips between the present and two months prior, before Anna confesses to killing Zoe. It documents Anna's time in the Hamptons working as a nanny for the summer for a prominent family, how she discovers and learns about the disappearance of Zoe Spanos, and how she eventually confesses to killing her.
Confused?
As you should be.
"𝑴𝒂𝒚𝒃𝒆 𝑰 𝒕𝒉𝒐𝒖𝒈𝒉𝒕 𝒊𝒕'𝒔 𝒘𝒉𝒂𝒕 𝒔𝒉𝒆 𝒘𝒐𝒖𝒍𝒅 𝒉𝒂𝒗𝒆 𝒘𝒂𝒏𝒕𝒆𝒅. 𝑴𝒂𝒚𝒃𝒆 𝑰 𝒘𝒂𝒔 𝒕𝒓𝒚𝒊𝒏𝒈 𝒕𝒐 𝒎𝒂𝒌𝒆 𝒕𝒉𝒊𝒏𝒈𝒔 𝒓𝒊𝒈𝒉𝒕."
Anna is from Bay Ridge in Brooklyn where she has spent way too much time drinking heavily and taking party favors, in the hopes that her mother might pay attention to her. But Anna wants to change. She wants a break from the relentless fog and partying, so she takes a summer job in the Hamptons. But upon arriving to this new place, she learns of the odd disappearance of a girl named Zoe Spanos. On New Years Eve, Zoe vanished without a trace. With little clues as to what had happened to her, and even less motive for foul play.
But what Anna quickly learns upon arriving in the Hamptons, is that she bares a striking and eerie resemblance to Zoe. Some would say, an almost identical resemblance.
"𝑴𝒂𝒌𝒆 𝒕𝒉𝒊𝒏𝒈𝒔 𝒓𝒊𝒈𝒉𝒕?" 𝑻𝒉𝒆 𝒅𝒆𝒕𝒆𝒄𝒕𝒊𝒗𝒆 𝒓𝒆𝒑𝒆𝒂𝒕𝒔 𝑨𝒏𝒏𝒂'𝒔 𝒘𝒐𝒓𝒅𝒔 𝒃𝒂𝒄𝒌 𝒕𝒐 𝒉𝒆𝒓.
And as Anna begins to learn more about Zoe through locals who mistake her for the missing girl, friends and news articles, Anna begins to fall deeper and deeper into the intricacies and mysteries surrounding the case. And to a point where secrets, truth, lies and blurred lines begin to reveal themselves.
"𝑰𝒏 𝒔𝒐𝒎𝒆 𝒔𝒎𝒂𝒍𝒍 𝒘𝒂𝒚. 𝑨𝒇𝒕𝒆𝒓 𝒘𝒉𝒂𝒕 𝑰'𝒅 𝒅𝒐𝒏𝒆. 𝑰𝒕 𝒘𝒂𝒔 𝒂𝒏 𝒂𝒄𝒄𝒊𝒅𝒆𝒏𝒕, 𝒃𝒖𝒕…
𝑰 𝑲𝒊𝒍𝒍𝒆𝒅 𝒁𝒐𝒆 𝑺𝒑𝒂𝒏𝒐𝒔."
This shit gets a liiiiiittle crazy.
From the beginning, Anna starts dropping little hints about her life back home. It consists of a lot of partying and activities that fuzzy up the mind, and gives the reader an overwhelming sense that she is running from something. Murder, you say?! Hmmm…maybe so. But what's really interesting about Anna's character is that you never really get a solid read on her. She's a bit of an enigma shrouded in hazy darkness, and it seems as if only the top few layers of her are pulled away. She's like an onion…you know the saying.
But what really started to intrigue me about Anna, besides her need to leave her past behaviors behind, was her constant forgetfulness.
Here is a girl who obviously isn't a hardcore drug user, and sure…she seems to have a bit of a pull towards the bottles of alcohol that she notices, but nothing to suggest she has a serious problem with substances. Which is the only reason I was coming up with for why she would be forgetting things randomly, to the point where the little girl she was nannying was constantly reminding her of conversations and clearly exasperated for having to do so. Obviously there's a rhyme and a reason for this odd behavior, but the way it is executed had me swooning.
Kit Frick was meant to write mystery thrillers. She knows how to create an eerie yet familiar personality in a character that feels authentic, but has ever so slightly had sprinkles of slight paranoia and hysteria woven in to make the reader question the sanity of the MC. And not only does she make the reader both trust and question Anna, but she adds in other multiple characters that feel innocent and guilty all at once.
"𝒀𝒐𝒖 𝒔𝒉𝒐𝒖𝒍𝒅 𝒈𝒐," 𝑪𝒂𝒅𝒆𝒏 𝒔𝒂𝒚𝒔 𝒂𝒔 𝑰'𝒎 𝒂𝒍𝒓𝒆𝒂𝒅𝒚 𝒕𝒖𝒓𝒏𝒊𝒏𝒈 𝒕𝒐𝒘𝒂𝒓𝒅𝒔 𝒕𝒉𝒆 𝒅𝒐𝒐𝒓, 𝒓𝒆𝒂𝒅𝒚 𝒕𝒐 𝒍𝒆𝒂𝒗𝒆 𝑾𝒊𝒏𝒅𝒆𝒓𝒎𝒆𝒓𝒆 𝒂𝒏𝒅 𝒏𝒆𝒗𝒆𝒓 𝒓𝒆𝒕𝒖𝒓𝒏. 𝑴𝒂𝒚𝒃𝒆 𝑷𝒂𝒊𝒔𝒍𝒆𝒚 𝒘𝒂𝒔 𝒓𝒊𝒈𝒉𝒕. 𝑻𝒉𝒊𝒔 𝒑𝒍𝒂𝒄𝒆 𝐢𝐬 𝒉𝒂𝒖𝒏𝒕𝒆𝒅. 𝑵𝒐𝒕 𝒃𝒚 𝒕𝒉𝒆 𝒅𝒆𝒂𝒅, 𝒃𝒖𝒕 𝒃𝒚 𝒕𝒉𝒆 𝒇𝒍𝒊𝒏𝒕𝒚 𝒔𝒆𝒄𝒓𝒆𝒕𝒔 𝒐𝒇 𝒕𝒉𝒆 𝒍𝒊𝒗𝒊𝒏𝒈."
I'll be honest, I had no idea who in the hell the murderer was until the murderer was actually revealed. And even then, I didn't believe it. There are SO MANY characters who are perfect suspects and have clear motives. SO MANY characters who act strangely and suspiciously. Who seem to always be covering things up or sweeping clues into a rolled up rug and throwing it into the ocean.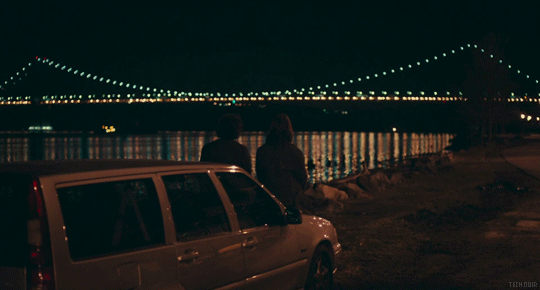 Its all.
Very.
Suspish.
But isn't that what we love? To be hit at the knees and have a bag pulled over our heads? And in true murder mystery form, we get to play detective alongside the characters. Throughout the story the POV switches over to Martina Green and her podcasts episode transcripts where she is trying to find out what happened to Zoe. She discusses police reports, insider information from the family, possible suspects, and even points the finger at the boyfriend.
Because it's always the boyfriend.
"𝑻𝒉𝒊𝒔 𝒃𝒐𝒚 𝒊𝒔 𝒂 𝒔𝒕𝒓𝒂𝒏𝒈𝒆𝒓, 𝒃𝒖𝒕 𝒇𝒐𝒓 𝒂 𝒔𝒍𝒊𝒑𝒑𝒆𝒓𝒚 𝒎𝒐𝒎𝒆𝒏𝒕 𝑰 𝒄𝒂𝒏 𝒔𝒆𝒆 𝒐𝒖𝒓 𝒍𝒊𝒗𝒆𝒔 𝒊𝒏𝒕𝒆𝒓𝒕𝒘𝒊𝒏𝒊𝒏𝒈, 𝒐𝒖𝒓 𝒅𝒂𝒓𝒌𝒆𝒔𝒕 𝒔𝒆𝒄𝒓𝒆𝒕𝒔 𝒂𝒏𝒅 𝒅𝒆𝒆𝒑𝒆𝒔𝒕 𝒇𝒆𝒂𝒓𝒔 𝒍𝒂𝒊𝒅 𝒃𝒂𝒓𝒆 𝒊𝒏 𝒕𝒉𝒆 𝒔𝒕𝒊𝒍𝒍 𝒏𝒊𝒈𝒉𝒕 𝒂𝒊𝒓."
Though of course, nothing is ever as it seems, is it?
And without giving anything away, I just need to comment on the ending. Sure I was totally blindsided, but do I realllyyyyyy believe that ending?
Meh.
It's questionable.
I felt like some conversations and relationships weren't tied up. I wanted a convo between the murderer and…a prominent character to take place, but it didn't. I wanted to see the TRUE feelings and thoughts of the murderer, but all I got was the confession and facts. But then again…that is the most authentic way to end a story like this, isn't it? When do we ever really get the full details on murders and heinous crimes?
Maybe if it involves Ed Kemper, but he's a unicorn.
Anyways.
This mystery kicked ass and finally got me out of my reading slump. It may be because there was murder in it, which seems to be my happy place lately (don't you fucking judge me) and the only genre to keep me interested. But I will say, that little situation with Star and the conclusion of that was a bit…anti-climatic, no? Like realllyyy? That's how that ties up? With a slapped on band-aid and a shrug?
Oh okay.