Here are a few books that I have

received

and

purchased

in the last few weeks.

Some

are already

released

and

some

have

upcoming publications

.
Either way, they're

all

going to be
~*~*~*~*~*~*~*~*~*~*~*~*~*~
~*

Gifted ARCs

*~
~*~*~*~*~*~*~*~*~*~*~*~*~*~
1. Surrender Your Sons by Adam Sass
Genre: YA/Contemporary/LGBT
Release Date: September 15, 2020
Available for Request on: Netgalley
This cover though, right?
Surrender Your Sons is about a young man who is thrown into a conversion therapy camp called Nightlight Ministries after coming out to his extremely religious mother. At the camp Connor learns quickly that there is more to the seemingly converted counselors and the odd camp director. He fights to find a way out and take his fellow campers with him, if only they can figure out how to take the camp down. 
I had read a book a few years ago called The Dead Inside which is a memoir by Cyndy Drew Etler and documents her time at one of the scared-straight camps that were run by Straight, Inc. and hugely popular in the 80s and 90s. They were "tough love" camps that were riddled with abusive and bizarre acts of therapy. I am expecting Surrender Your Sons to be similar to this or the 2008 film Boot Camp starring Mila Kunis.
2. The Memories We Bury by H.A. Leuschel
Genre: Fiction/Contemporary
Release Date: April 17, 2020

H.A. Leuschel is an author I have read in the past, namely her collection of short stories called Manipulated Lives that I found to be incredibly raw. Helena has an uncanny ability to see the faults and darkness that is weaved into humanity, and she is able to portray them to the reader through a tale that feels realistic but also non-judgemental.
The Memories We Bury is her first novel and about a bond that forms between a new mother, her husband and her elderly neighbor. It highlights the motherly habits and traits that both Lizzie and her neighbor Morag have learned through personal experiences, and is a story of having to learn who to trust.
3. I Killed Zoe Spanos by Kit Frick
Genre: YA/Mystery/Thriller
Release Date: June 2, 2020
Available for Request on: Netgalley

I Killed Zoe Spanos is about a girl named Anna Cicconi who arrives in the Hamptons for a Summer job. Upon her arrival she learns of a girl that has been missing since New Years Eve – Zoe Spanos. As Anna learns more about Zoe, she is told by members of the community of her striking resemblance to Zoe, and she soon begins to wonder if they are linked in some way.
But then when Zoe's body is finally found, Anna is charged with manslaughter with an alibi that doesn't quite make sense.
The premise is giving me mad The Lies They Tell vibes, which I loved, so I am supper stoked to start this gem.
~*~*~*~*~*~*~*~*~*~*~*~*~*~
~*

Book Purchases

*~
~*~*~*~*~*~*~*~*~*~*~*~*~*~
1. Hidden Bodies (You, Book 2) by Caroline Kepnes
Genre: Fiction/Mystery/Thriller
I have become horribly obsessed with Joe Goldberg.
He's just a lover of words and YOU and only wants to get rid of the toxic shit from your life so you can excel and be happy, okay?
*sigh*…swoon.
Thankfully I had found not one, not two, but THREE other girls on Bookstagram who are equally infatuated and understanding of Joe's murderous ways (@_Shelikestoread , @Heyyitsfahh , @book_and_jane). But only one of us has ever read the books, so we agreed to do a buddy read of You and Hidden Bodies in April, and I am beyond excited. Apparently Joe is MUCH more horrible in the books, but I am sure our love will remain strong.
For those of you who don't know, You is about a book lover named Joe who works in a bookshop. He meets a woman named Beck who he falls for, slightly totally stalks until she falls for him, and basically he ends up…getting murdery…
…I swear he's totally dreamy.
*This is not an invitation to come stalk me.
2. Pet Sematary by Stephen King
Genre: Fiction/Horror/Thriller
I am not a Stephen King fan…mostly because I've never read any of his books.
Does that make me a bad bibliophile???
There has been a lot of recent buzz about this book again with the 2019 movie reboot and the various book merch that has been circulating through Bookstagram and Etsy. In one of my most recent rep packages from Twisted Wonderland Perfumery I received a beautiful Pet Sematary inspired enamel pin of Gage and Church.
"Sometimes Dead is Better" Enamel Pin and Soaps – Use code TWJENACIDE to save 10%.
So naturally I found myself super curious about the book and looked it up. Pet Sematary is basically about a pet cemetery that has strange and eerie aspects. Louis Creed and his family move to Maine (where every fucked up King scenario takes place), and behind their house there is a path that leads to a Pet Sematary where children have buried their pets. Apparently the family's cat dies and everything pops off from there.
3. Smoke Gets in Your Eyes: And Other Lessons from the Crematory by Caitlin Doughty
Genre: Nonfiction/Autobiography/Death/Science
Now before you get all weird and start looking at me with eyebrows scrunched in concern and pursed lips of disapproval, let me explain.
I've always wanted to work in a morgue, and it's mostly just because of how quiet it would be. I really love hushed voices.
Whispers.
Silence.
And so naturally my weird little gothy book obsessed self is going to scream of excitement when she sees a book like this!
Smoke gets in Your Eyes is the story of Caitlin Doughty's first cremation job at WestWind Cremation and Burial in Oakland, CA at the age of 23. The book documents her time there and how she learned the ropes at this unconventional job. It is said to be funny, full of information, and gives the reader a new outlook on the dead in general. And obviously that book title is genius.
So I don't know about you, but I feel like I've found my true genre of book. ❤
4. Words in Deep Blue by Cath Crowley
Genre: YA/Contemporary/Romance
These last three books I also bought today, but via Ebay because DAMN were they a deal!
But since I have fallen into a deep, dark, sobbing, soul incinerating black hole of heartbreaking YA contemporary…I was starting to run out so I had to buy more.
I'm a masochist okay? I want alllllllll the painful feels!
Words in Deep Blue is said to be a love story. Aw.
It's about best friends Henry and Rachel, an inseparable duo. Basically Rachel had feelings for Henry, but Henry was all googly-eyed for someone else. But as Rachel is planning to move away, she decides to confess her love for Henry in a letter that she hides in his favorite book in his family's book store (MAJOR Aw's, right?!). Some years go by without any contact, and then she comes back to town where Henry lives and…
…well I don't know. I need to read it.
5. The Places I've Cried in Public by Holly Bourne
Genre: YA/Contemporary/Romance
Ugh. What a great title.
Can you guys even count all the places you've cried in public? I wouldn't even know where to begin!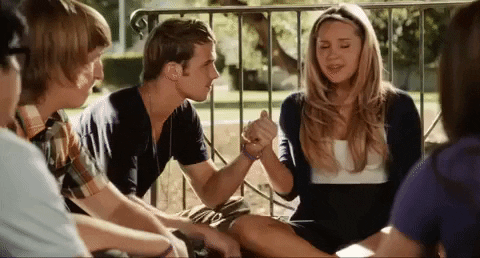 Anyways. The Places I've Cried in Public is about how Amelie and Reese's relationship ended, and it sounds like it's going to be a story of abuse and toxic relationships. These are always super dear to my heart so I am beyond ready to get wrecked over this.
6. It Only happens in the Movies by Holly Bourne
Genre: YA/Contemporary/Romance
I am hoping this is going to be one of the most realistic portrayals of romance in YA Contemporary that I'll be finding, due to the title and the premise.
It Only Happens in the Movies is about a girl named Audrey who begins working at her local cinema to escape her home life, and ends up meeting Harry – a wannabe filmmaker. A romance sparks and they fall fast, but their romance isn't the fluffy spectacle that is portrayed in the movies. It's real and difficult and everything nobody likes to talk about.
~*~*~*~*~*~*~*~*~*~*~*~*~*~
Stay Witchy ❤